Viral Deadline Day video of banana attack on Italian sports reporter exposed as fake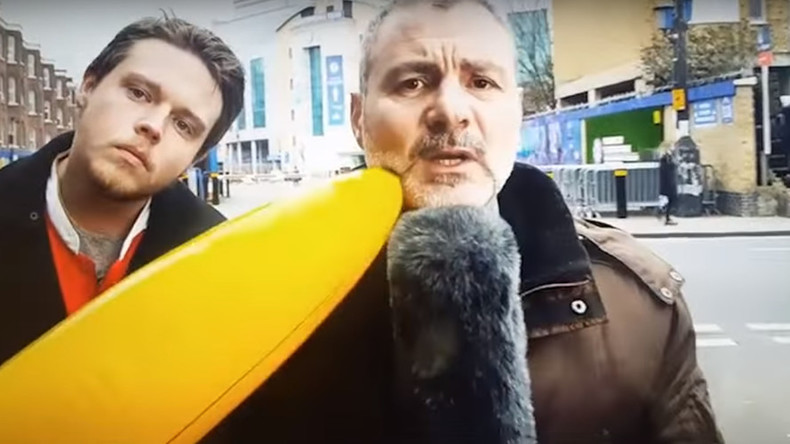 A video purportedly showing an Italian journalist losing his cool after being prodded by an inflatable banana-wielding man during a live broadcast has been revealed as a fake.
The footage was allegedly from a SportItalia broadcast outside Stamford Bridge in London on what is known to soccer fans as Deadline Day, the final day of January when traditionally many of Europe's clubs scramble to buy and sell players before the transfer window closes.
After being being persistently poked by a passerby wielding a giant inflatable banana, the "sports reporter" first brushes man and object away before eventually losing his temper as the uninvited guest's antics continue.
Sportitalia Director Michele Criscitiello later took to Twitter to confirm the video is a fake and never aired on the sports channel - but not until the clip had generated considerable interest online.
"He is doing around the web. Obviously it's a fake but be aware that such a dream sent to Sportitalia", Criscitiello posts.
The "reporter" in the video has been named as actor, Paolo Gasparini.
Don't feel bad if you were fooled by the footage. Transfer deadline days are renowned for chaos - so much so that Sky Sports News stopped sending reporters to the grounds after a similar, but real, incident in 2014.
Instead of a yellow banana, a purple dildo was used to accost Sky Sports reporter Alan Irwin.
A fan looking for his five minutes of fame approached Irwin waving the object and then poked it in Irwin's ear.
You can share this story on social media: