'Biggest fan': 5yo Afghan boy with plastic bag jersey may soon meet Lionel Messi (VIDEO)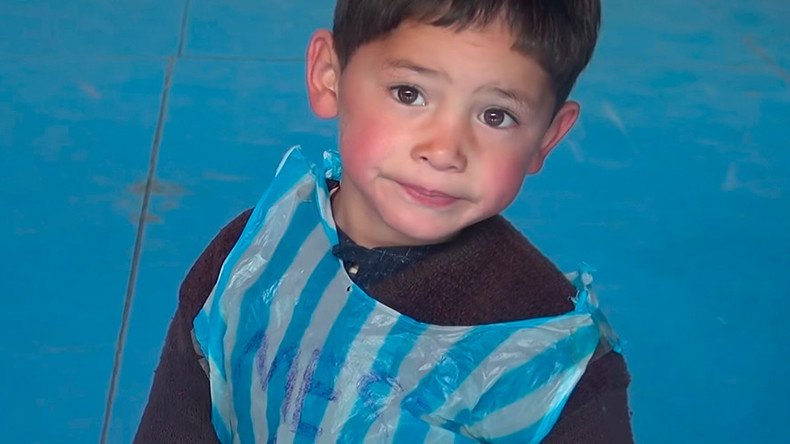 A young Afghan boy, who captured hearts around the world when a picture of him wearing a makeshift Lionel Messi jersey went viral, could be about to meet his football idol.
Five-year-old Murtaza Ahmadi was snapped wearing a blue and white shopping bag with the Ballon d'Or winner's name scrawled on the back.
The boy's family could not afford to give him a real replica shirt of the Barcelona and Argentina superstar, but he was apparently delighted with his homemade version.
Now, Ahmadi may get the opportunity to pit his skills against Messi in real life.
The Barcelona star was so moved by the young boy's photo, he "wants to do something" for the Afghan youngster described as his "biggest fan", the AFP reports.
Messi himself grew up in difficult circumstances in Rosario - a place Vice described as Argentina's most violent city - so perhaps he sees something of himself in Ahmadi.
The Afghanistan Football Federation is currently exploring ways to facilitate a dream-come-true meeting between the pair, with Messi willing to take time out of his busy schedule to meet his young Afghan fan.
It's unlikely that Messi would travel to Ahmadi's native province of Ghazni, near Kabul given that the area has routinely come under attack from Islamic militants in recent years.
Under Taliban rule, sport was widely banned and Ahmadi's local football stadium of Ghazi was used as a venue for executions.
However, the five year old and his relatives could be flown to Spain for the meeting.
"We are working to see whether Messi will come to Afghanistan or the five year old will travel to Spain or they will meet in a third country," the Afghanistan Football Federation said.
You can share this story on social media: