US sports battle to reboot fixtures after blizzard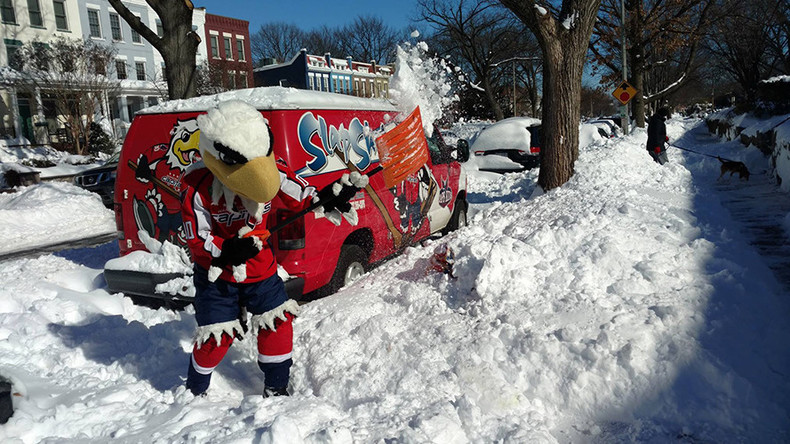 The huge blizzard which hit the East Coast of the US last weekend may have affected over 85 million people, but sport is doing its best to return to normality as soon as possible.
In the NHL, Washington Capitals saw two games postponed against Anaheim Ducks and Pittsburgh Penguins, giving Russian forward Alexander Ovechkin the chance to show off his skills with a snowblower.
New York Islanders' Saturday match-up against the Flyers was also canceled, but they returned to home ice on Monday night with a 4-2 loss against the Detroit Red Wings.
The storm also affected the NFL, with Carolina Panthers forced to move practice ahead of Sunday's NFC Championship game against the Arizona Cardinals.
Panthers' Coach Ron Rivera said: "The guys had great energy. They really were focused in on what they need to do with the exception of a few guys making snow angels out there. In fact, on the offensive side I don't think we dropped a pass."
The switch didn't affect the Panthers' performance during the game as they romped to a 49-15 victory to reach Super Bowl 50.
The NBA has lost a number of games in New York, Philadelphia and Washington, while college basketball games across the region have also been affected.
NASCAR moved its 2016 Hall of Fame induction ceremony in Charlotte from Friday to Saturday because of the blizzard, while horse racing was also affected with meetings at Aqueduct, Oaklawn and Laurel Park amongst those affected.
New York City Mayor Bill de Blasio asked people to leave their cars covered with snow all week, but he tweeted that the city "won't quit until the job (of clearing the streets) is done."
The storm also created the first viral challenge of 2016, with #SnowChallenge springing to life on social media.
Many daring people have even donned their swimming gear and jumped into the freezing snow as part of the challenge.
You can share this story on social media: