Sharapova & Williams to renew rivalry in Australian Open quarter-finals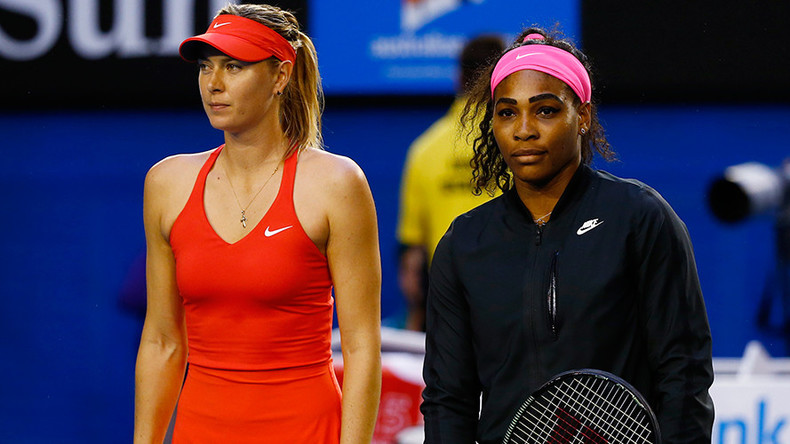 Maria Sharapova will face Serena Williams in the Australian Open quarter-finals, renewing a long-running rivalry between the two. Whenever the pair meet, the focus goes beyond tennis and into commercial and, occasionally, very personal matters.
The quarter-final match-up was confirmed after both Sharapova and Williams won their last-16 games in Melbourne, although in somewhat contrasting circumstances.
Sharapova, the number five seed, had a tough time of it in her match against Swiss Belinda Bencic, eventually prevailing 7-5, 7-5 in two hours and six minutes.
The 2008 champion fired down 21 aces in the victory, but also served seven double faults and made 46 unforced errors.
Williams, who is seeking to add to her 21 Grand Slam titles, including six Australian Open crowns, was in imperious form as she dealt with 21-year-old Russian Gasparyan, winning 6-2, 6-1 in just under an hour.
Speaking on court after the game, the 34-year-old American did not appear to be too fazed by the prospect of facing Sharapova: "I had no idea I was playing her next. She [Sharapova] had a really good match earlier, but I've got nothing to lose and will just do my best."
The quarter final will continue an on-court rivalry that Williams has dominated, having defeated the Russian in their last 17 games – a run stretching back to 2004.
Williams has 21 Grand Slams to Sharapova's five, and she beat the 28-year-old in the Australian Open final last year, winning 6-3, 7-6 (7-5).
The last time the pair met was in the Wimbledon semi-finals last July, when Williams won 6-2, 6-4.
Off the court, however, things are very different, with Sharapova very much being the dominant force.
Sharapova is the undisputed financial queen of women's tennis, and in fact women's sport as a whole. A number of lucrative modeling and advertising sponsorship deals, as well as her 'Sugarpova' candy business, helped the US-based Russian to earnings of $29.5 million in 2015, according to Forbes.
That put her 26th on the list of the world's highest-paid athletes, and easily the number one earner among female sports stars – way ahead of next-best earner Williams, who brought in $24.6 million through endorsements and winnings.
The rivalry is not just about tennis and business, though, as Sharapova and Williams have also battled in their private lives.
There appears to be bad blood between the two which stems from their relationships with fellow tennis player, Grigor Dimitrov.
Both of them have dated Dimitrov, and the 24-year-old Bulgarian was most recently in a relationship with Sharapova. They have now split, but while still together back in 2013, Sharapova and Dimitrov were apparently the target of comments made by Williams that were published in Rolling Stone magazine.
Apparently referring to Sharapova, Williams said: "She begins every interview with 'I'm so happy. I'm so lucky' – it's so boring… She's still not going to be invited to the cool parties. And, hey, if she wants to be with the guy with a black heart [presumably Williams' ex-boyfriend, Dimitrov], go for it."
Sharapova later returned fire by commenting on Williams' relationship with her French coach Patrick Mouratoglou, saying: "If she wants to talk about something personal, maybe she should talk about her relationship and her boyfriend [Mouratoglou] that was married and is getting a divorce and has kids."
Dimitrov, the apparent source of the spat, has since moved on and is now dating former Pussycat Dolls singer Nicole Scherzinger.
While both Sharapova and Williams have since been more respectful when asked about each other in interviews, the backstory inevitably resurfaces every time they meet – and this time will be no different.
You can share this story on social media: