Match-fixing report rocks tennis: Top players suspected, authorities accused of cover-up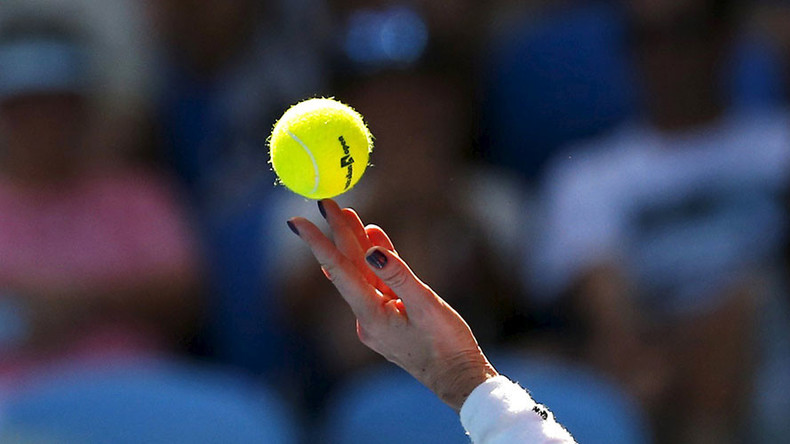 Tennis has been stunned by claims of widespread match-fixing in the sport. A joint BBC and BuzzFeed report says the tennis authorities were told of 16 high-profile players who were accused of rigging matches, but failed to act on the information.
The first Grand Slam tournament of the year, the Australian Open, has started under a cloud in Melbourne following damning match-fixing accusations. The investigation carried out by the BBC and BuzzFeed suggests that 16 tennis players who have been ranked in the world's top 50 were brought to the attention of the Tennis Integrity Unit (TIU), which is responsible for fighting against match-fixing.
They were identified as having suspicious behavior and could have been looking to throw matches. The names of the players, which include former Grand Slam champions, have not been revealed, though they have reportedly been allowed to compete in this year's Australian Open.
As the revelations broke, the world number one men's tennis player Novak Djokovic said that he was indirectly approached about fixing a match earlier in his career, an offer that he flatly rejected.
"I was not approached directly; I was approached through people that were with my team.
"Of course, we threw it away right away. The guy that was trying to talk to me, he didn't even get to me directly. There was nothing out of it.
"Unfortunately, there were some, in those times, those days, rumors, some talk, some people were going around. They were dealt with. In the last six, seven years, I haven't heard anything similar."
The TIU has rejected any suggestions that evidence of match-fixing was suppressed or not thoroughly investigated.
"We are confident that the Tennis Integrity Unit is doing what it can and tackles this issue very, very seriously," Chris Kermode, the chairman of the Association of Tennis Professionals (ATP), said.
The TIU, which Kermode says is underfunded, was set up to fight against match-fixing and corruption in the sport. So far investigations by the organization have resulted in sanctions being taken against 18 players, six of whom were issued with life bans.
Given the nature of tennis as an individual sport, betting experts say it is ripe to be abused for the purposes of match-fixing.
"If you have a look at the big tournaments, the Opens or Olympic Games, you'll notice that in a lot of these tournaments the favorite usually wins," said Steve Georgakis, a senior lecturer at the University of Sydney, who is researching match-fixing in tennis, according to Reuters.
"But at a small tournament the following week, how could anyone prove that a top 50 player didn't lose because they were exhausted or injured.
"It's a one-on-one sport and what you do is, you're the favorite and you get a few other people to load up on the other player to win and then you throw the match. And you can never get caught," he concluded.
Meanwhile, defending Australian Open women's champion and world number one Serena Williams, who won her first match in this year's tournament, said she was unaware of any players doing anything wrong.
"When I'm playing, I can only answer for me, I play very hard, and every player I play seems to play hard," Williams told reporters in Melbourne, as cited by Reuters.
"If that's going on, I don't know about it."
You can share this story on social media: