Irate motocross rider punches fellow competitor after crash (VIDEO)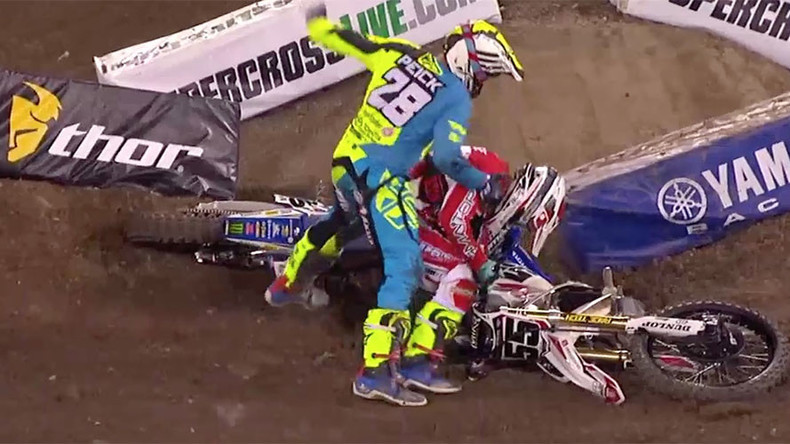 Motocross rider Weston Peick is in the headlines for all the wrong reasons after Saturday night's AMA Supercross event, where he attacked fellow competitor Vince Friese following a crash.
As can be seen in the video below, Peick was cut off by Friese and reacted angrily as the pair spun off the track.
The duo were caught up in a number of altercations during the opening rounds of the 2016 Monster Energy Supercross series at the Angel Stadium of Anaheim, California.
During their heat race, Friese ran Peick wide upon the entry to a whoop section and sent him off his bike.
This meant Peick was forced to go into the semi-final rounds, where the pair crossed paths again after Friese cut his opponent off.
The two riders collided and both fell to the ground, with Peick reacting angrily and repeatedly punching the back of Friese's head and neck.
Peick was immediately disqualified from the event and has been handed a one-race suspension and a $5,000 fine by the American Motorcyclist Association (AMA).
Fighting on the motocross track is unusual, but Tyler Evans and Keith Johnson did come to blows in similar fashion during a race in Vancouver in 2006.
You can share this story on social media: