Ice cross downhill offers thrills & spills, with popularity snowballing in 2016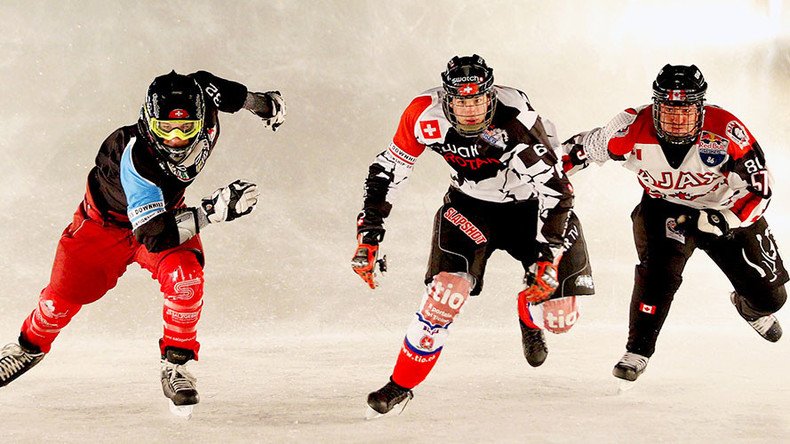 In its 15th formal year, extreme winter sport ice cross downhill is becoming something of a global phenomenon, with spectators captivated by the fast-paced action and bruising falls.
The high-octane sport sees competitors take on grueling ice tracks, racing over vertical jumps and steep turns to cross the finish line first - all on ice skates.
The world tour is sponsored by Red Bull and fittingly named Crashed Ice, with events hosted all over the world and eagerly attended by thousands of screaming fans.
Each race sees four competitors take to the track, with heats taking place before the quickest and most reckless skaters jostle for top spot in the final.
The sport is particularly popular with ice hockey players, who are adept at moving quickly on the perilous terrain and usually wear hockey attire.
Participants regularly eclipse speeds of 50km/h, with the smallest misjudgment subsequently resulting in bone-jarring spills and falls that have the audience gasping for air.
The tracks are up to 600 meters in length, with more and more challenging courses being set up across the globe and in varying locations - ranging from mountain ranges to through city centers.
The 2015 Crashed Ice World Championships took place from January to March, with races in four different countries.
Although three different competitors picked up first place throughout the highly contested circuit, Canadian skater Scott Croxall was crowned champion.
The world champion won two events in Helsinki, Finland and Belfast, Northern Ireland to claim top spot for the first time.
The victor is following in the footsteps of his brother Kyle Croxall, who was named the world's top racer in 2012.
The 2015 campaign also saw the birth of the Riders Cup - circuits that have been designed and built by the competitors.
American Cameron Naasz won the first race of the 2016 season in Quebec, Canada. The next event takes place in Munich, Germany, this weekend.
There are also women's and team competitions, with ice cross downhill seemingly showing no signs of its increasing appeal abating.
You can share this story on social media: