Finland wins junior ice hockey gold - Russia 2nd, US 3rd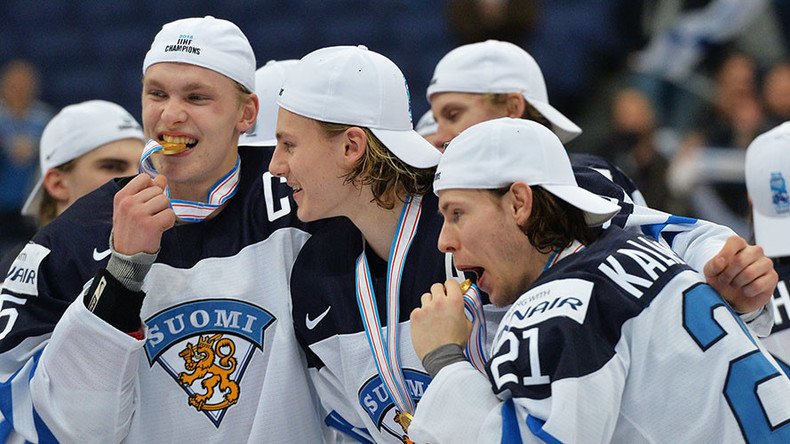 Finland won the 2016 IIHF World Junior Championships gold medal with a dramatic 4-3 overtime victory over Russia.
Kasperi Kapanen's overtime wrap-around effort 93 seconds into the extra period secured Finland's fourth world junior ice hockey title and their second in the past three years.
Both teams reached the final after 2-1 victories - Finland defeating Sweden and Russia overcoming the United States - and the game attracted a large crowd to the Hartwall Arena in Helsinki.
The home fans were stunned into silence inside the first five minutes, after a powerplay goal by Vladislav Kamenev put Russia 1-0 ahead.
The Russians were happy to sit back after Kamenev's goal, forcing Finland to work hard to find openings during the first and second periods.
Patrik Laine tied the game just 24 seconds into the final period, but Andrei Svetlakov quickly restored Russia's lead.
Sebastian Aho leveled again midway through the period and the game looked up for the Russians, when Mikko Rantanen made it 3-2 on the powerplay with just over two minutes remaining.
In the final minute Russia pulled netminder Alexander Georgiev and were rewarded six seconds from the end of regulation as Svetlakov tucked home a rebound to make it 3-3.
The hosts roared forward in overtime and when Aleksi Saarela found Kapanen, he calmly eluded defenseman Sergei Boikov and circled the net to score on the wrap-around.
Aho, who had five goals and nine assists during the tournament, said he was delighted to secure the gold medal.
"We just tried to enjoy the game as a once-in-a-lifetime opportunity - a final in a World Championship in our home city," he said. "Everything was awesome."
Russian forward Radel Fazleyev commented: "I'm proud of our team. We did a good job. Congratulations to Team Finland - they did an even better job."
United States claimed the bronze medal with an emphatic 8-3 success against Sweden - Ryan Donato, Anders Bjork and Matthew Tkachuk all scored twice for the US.
Only three countries have ever won the World Juniors on home ice. They are Canada (1991, 1995, 2006, 2009 and 2015), Finland (1998 and 2016) and the Soviet Union (1983).
Finland will start its title defense on December 26 at the 2017 IIHF World Junior Championships in Canada.
You can share this story on social media: