UFC 195 Report: Lawler edges Condit in intense battle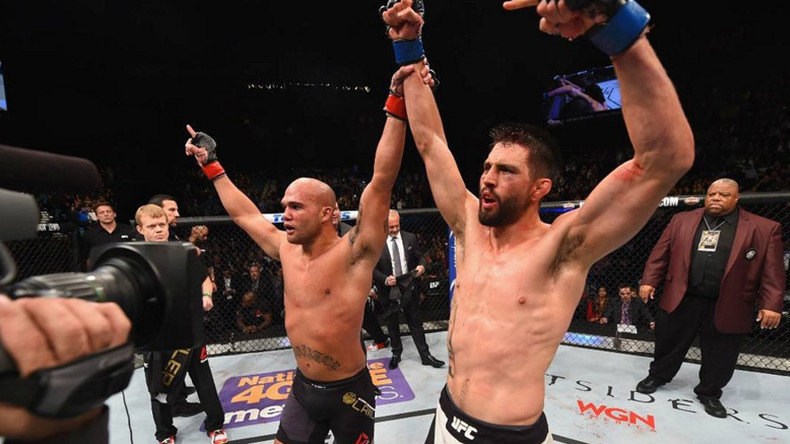 Robbie Lawler successfully defended his UFC welterweight belt after a bruising contest against Carlos Condit at UFC 195 on Saturday night. In the co-main event, Stipe Miocic stopped Andrei Arlovski inside the first minute of their heavyweight clash.
Lawler was awarded the decision despite Condit landing 120 more strikes and hurting the champion on numerous occasions.
The veteran fighters brought a combined 27 years of cage experience to the MGM Grand Garden Arena. They delivered a pulsating bout, with both fighters landing huge strikes and big knockdowns, yet both bounced up to keep fighting into a punishing fifth round.
Condit survived two big shots in the final two minutes, but his opponent couldn't land a final knockout blow and the contest went to the judges, who scored it 47-48, 48-47, 48-47 in favor of Lawler.
The champion praised Condit after the fight: "He's been doing this a long time," he said. "Hats off to a champion, Carlos Condit. He's everything they said he was. He's tough as hell, he's technical as hell, and it was an amazing fight."
Condit thought he won the fight, but still congratulated his opponent.
"I felt like I had three rounds in my pocket. That's why they say never leave it to the judges. To fight an absolute warrior like Robbie Lawler, I'm blessed to do what I do for a living," he said.
After a tentative opening in the heavyweight match, Miocic fired a right hand that slipped through Arlovski's guard and rocked the former champion. He continued to press forward and ‒ after landing two more stiff punches ‒ Arlovski crumpled to the canvas.
After the bout Miocic demanded a title shot, which was granted to him by UFC President Dana White. He will face the winner of a title rematch between champion Fabricio Werdum and Cain Velasquez, which is scheduled for February 6 at UFC 196 in Las Vegas.
Albert Tumenov edged his welterweight contest against Lorenz Larkin via split decision.
The Russian fighter repelled Larkin's attacks to his legs to deliver multiple punch combinations to the body and head. Despite not landing with them all, the judges were impressed enough to award a 29-28, 28-29, 29-28 decision.
The fight also featured the most uncomfortable viewing moment, when one of Larkin's coaches pulled out his braces while he was sitting on the stool in-between rounds.
Larkin seemed less than impressed as he swore at his coach, before the referee went over to investigate.
Whatever the issue, it didn't appear to affect Larkin's performance too much as he pushed Tumenov to the limit.
UFC 195 Results
Robbie Lawler def. Carlos Condit, split decision (47-48, 48-47, 48-47)
Stipe Miocic def. Andrei Arlovski, TKO (Round 1, 0:54)
Albert Tumenov def. Lorenz Larkin, split decision (29-28, 28-29, 29-28)
Brian Ortega def. Diego Brandao, submission (Round 3, 1:37)
Abel Trujillo def. Tony Sims, submission (Round 1, 3:18)
Michael McDonald def. Masanori Kanehara, submission (Round 2, 2:09)
Alex Morono def. Kyle Noke, split decision (29-28, 27-30, 29-28)
Justine Kish def. Nina Ansaroff, unanimous decision (29-28, 30-27, 30-27)
Drew Dober def. Scott Holtzman, unanimous decision (29-28, 29-28, 29-28)
Dustin Poirier def. Joe Duffy, unanimous decision (30-26, 30-27, 30-27)
Michinori Tanaka def. Joe Soto, split decision (29-28, 28-29, 29-28)
Sheldon Westcott def. Edgar Garcia, TKO (Round 1, 3:12)
You can share this story on social media: