2016 NHL Winter Classic: Canadiens win 5-1 over hometown Bruins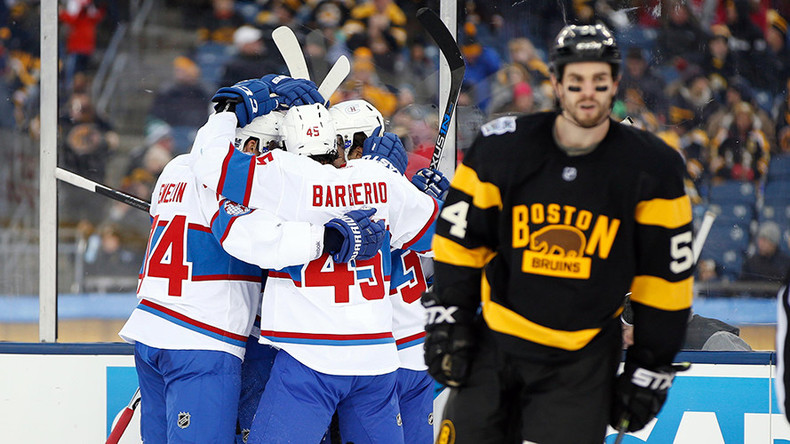 The Montreal Canadiens started 2016 in style after winning the NHL's Winter Classic game against Boston Bruins at Gillette Stadium.
Canadiens' 5-1 victory at the home of the NFL's New England Patriots moves them up to first place in the Atlantic Division.
David Desharnais, Paul Byron, Brendan Gallagher and Max Pacioretty scored the Canadiens goals, with Matt Beleskey replying for the Bruins.
The Canadiens, with 47 points, are now one ahead of the Florida Panthers, while Boston sits behind Montreal and Florida with 44 points.
The eighth NHL Winter Classic drew a crowd of 67,246 to Gillette Stadium, with organizers spreading white, puffy fabric over the football field to compensate for the lack of snow.
The attendance fell some way short of the highest for the Winter Classic of 105,491, set in 2014 at Michigan Stadium for the game between Toronto Maple Leafs and Detroit Red Wings.
The event is held annually by the NHL on or around New Year's Day and features a regular-season ice hockey game played outdoors, generally in a football or baseball stadium, in an area with a resident NHL team.
The first Winter Classic was held in 2008 at Ralph Wilson Stadium in Orchard Park, New York, between the Buffalo Sabres and Pittsburgh Penguins.
Canadiens' defenseman P.K. Subban was the star figure at the Winter Classic from the moment he arrived at the stadium wearing a burgundy fedora with a matching overcoat, featuring fur-like collar and brown plaid suit.
"That was a fresh hat, fresh outfit. The whole outfit was fresh," Subban said. "I always want to make sure I look my best. I thought it was a pretty cool outfit.
"I just felt the color was probably something maybe somebody would have worn back in the day. The cut and maybe the style of the jacket and the suit are probably a little bit different. We didn't want to go too old school. We didn't want to go back to 1909. That's a little far aways back."
Subban also wore personalized CCM-Reebok skates featuring his No.76 on the sides, along with a No. 4 on them in memory of Canadiens' legend Jean Beliveau, who died last year. Subban and Beliveau became close before Beliveau's death.
Four pairs of skates were made, with Subban already putting one pair up for an auction which raised $50,000 for his charity foundation.
The winner was flown to Boston, given tickets to the Winter Classic, hotel accommodation and the skates.
You can share this story on social media: