The best offbeat sporting moments in 2015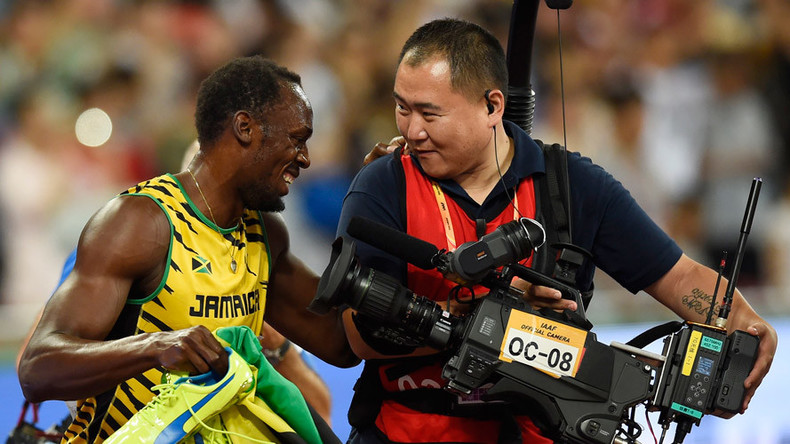 Sport has had some exhilarating moments in 2015, but there has also been plenty to laugh about over the last 12 months.
Bolt taken out by cameraman
Usain Bolt was taken out during his celebrations after winning the 200m at the World Athletics Championships in Beijing, with Chinese cameraman Song Tao losing control of a Segway and sending the athlete to the ground.
The Jamaican took it in his stride, laughing as he got to his feet gingerly.
Serena has a giggle
World number one Serena Williams finished the year with three majors but also has a clip to add to the blooper reel from her match against Andrea Hlavackova in the French Open.
The American tennis star misjudged a lob from her opponent and was reduced to fits of laughter, before going on to win the match 6-2, 6-3.
Pearson calls journalist an ostrich
Former Leicester City manager Nigel Pearson went on a tirade after his side's 3-1 loss to Chelsea, labeling journalist Ian Baker an "ostrich" in a peculiar turn of events.
The agitated coach claimed the reporter had his head buried in the sand, before proceeding to walk out of the press conference.
Murray and Roddick share a joke on Twitter
Andy Murray was able to see the funny side of a misprint on Twitter, when People CelebWatch tweeted a photo of Andy Roddick and his wife with news of the impending arrival of their baby.
The celebrity magazine stated that it was the Scotsman and Roddick's wife Brooklyn Decker that were expecting, which sparked a hilarious back-and-forth on social media.
Scottish goalkeeper goes to wrong ground
Brechin City goalkeeper Graeme Smith made the headlines when he arrived at the wrong ground for his team's clash with Stenhousemuir.
The shot-stopper travelled 83 miles to the opposition's Ochilview Park - only to find that Brechin were at home. He raced back to make it in time for kick-off.
Brazilian referee locked and loaded
Brazilian referee Gabriel Murta took the law into his own hands when a scuffle broke out in a clash between Amantes da Bola and Brumadinho, going to the changing rooms and returning with a gun.
It took a host of other match officials to restrain the irate ref.
Swarming to watch the action
A pre-season friendly between English teams Oldham Athletic and Blackburn Rovers was delayed after a swarm of bees built a hive on one of the Boundary Park goalposts.
A bee-keeper was called to eradicate the problem, with Oldham's official Twitter account taking a light-hearted view of the situation.
Djokovic digs in
Novak Djokovic fell to his knees after beating Roger Federer to win his third Wimbledon title, but few expected what happened next.
The Serbian savored his victory by having a taste of the Centre Court grass, later praising ground staff for the way it tasted.
Chinese commentator falls asleep
Chinese pundit Dong Lu was sacked in November as he fell asleep while commentating on Real Madrid's Champions League fixture with Paris Saint-Germain.
He was covering the game for LeTV and started snoring in the 79th minute.
Blatter makes Twitter faux pas
Shamed FIFA president Sepp Blatter was in buoyant mood on Twitter back in May, celebrating the governing body's 111th anniversary.
He promised that the next two months would be eventful - they were, but for all the wrong reasons. The first of 2015's FBI raids occurred six days later.