Zenit's Aleksandr Kerzhakov goes on loan to Zurich FC
Published time: 19 Dec, 2015 11:59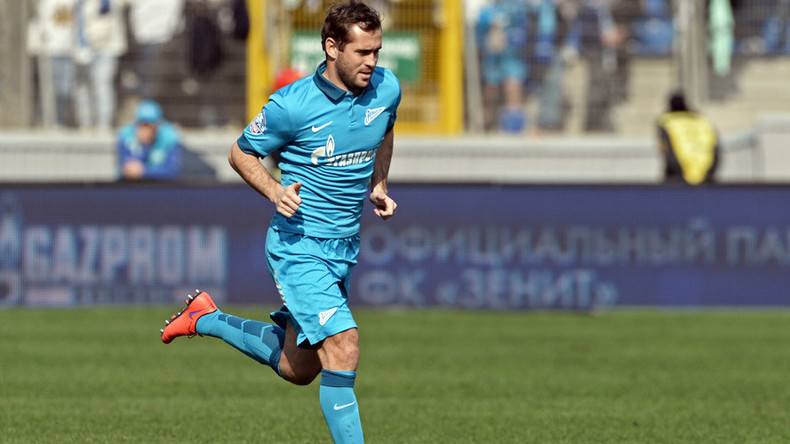 Thirty-three-year-old Russian forward Aleksandr Kerzhakov will be playing on loan for Swiss side Zurich for the rest of the season after finding playing opportunities difficult to come by at his current club, Zenit St Petersburg.
Kerzhakov announced the news on his Instagram account, saying that the move offered him a chance to play regularly and a chance to be in contention to play for Russia in the 2016 European Championships next summer.
"Here is the news! I will be playing on loan for Zurich FC starting January 1!" Kerzhakov announced. "I had offers from numerous countries, but I chose the one that impressed me most with its sincerity and warmth that a club's president and a head coach may offer."
Kerzhakov has played for Zenit since 2010, while he also had a previous stint at the club from 2001 to 2006.
In between, Kerzhakov played two seasons for Spanish side Sevilla FC (2006-7 and 2007-8), winning the UEFA Super Cup, Spain Super Cup and Copa Del Rey in the 2006-2007 season. He only scored 11 goals in 46 games in his time in Spain, and he eventually moved back to Russia with Dynamo Moscow. At Moscow he played a further two seasons (2008, 2009), scoring 23 goals in 59 games.
In 2010, he returned to Zenit where he enjoyed a very successful first two seasons, scoring 41 goals in 78 games before his game slowed with age. More recently, Zenit manager Andre Villas-Boas has said that Kerzhakov is not a first-choice selection for the Zenit squad.
This season, Zenit qualified for the knockout stages of the UEFA Champions League by winning its group with a game to spare. However, Zenit has found less success at home, languishing in sixth place in the Russian Premier League - albeit with only seven points behind leaders CSKA Moscow and only two points from third place in the league.
Zurich are currently ninth in the 10-team Swiss Super League, with 17 points from 18 games. The Super League is currently on a winter break and due to return to action on February 6.
Kerzhakov was confident that despite the lowly status of his new team, he would play an important role on the pitch and get an opportunity to play himself back into contention for the national side.
"The coach reassured me that although the league is not among the top ones it is the one to help me restore my game alertness, confidence and be of use for my new club," Kerzhakov wrote. "Playing for the club, I will also have the chance of returning to the list of candidates for the Russian national football team."
Kerzhakov has scored 30 goals in 90 matches for the Russian national team and is the top scorer for the country since the end of the Soviet Union in 1991 (Oleg Blokhin, with 42 goals in 112 games, holds the overall record).
He has scored 224 goals throughout his career, including 160 in 363 matches playing for Zenit. His younger brother, Mikhail, is also a professional footballer who plays for Zenit as a goalkeeper.