Philadelphia 76ers equal biggest losing streak in US sports history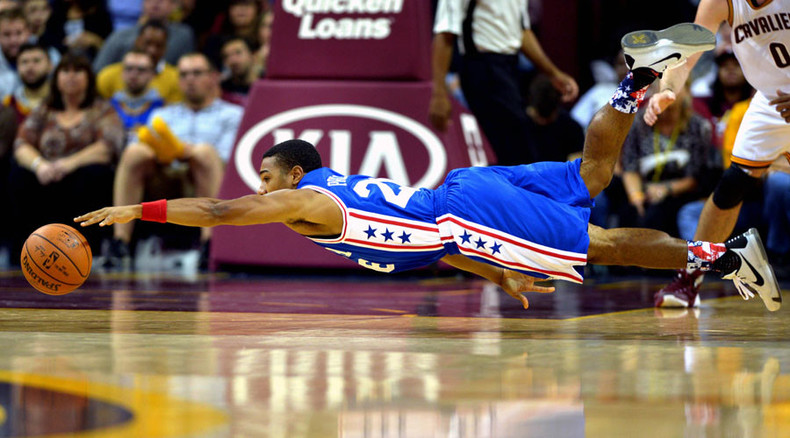 NBA team the Philadelphia 76ers have equaled the longest losing streak in major US professional sports history. Despite holding a five-point lead deep into the fourth quarter, the 76ers lost 84-80 against Boston Celtics to record their 26th consecutive defeat.
The 26-game losing run has been 'achieved' only twice before – by the NFL's Tampa Bay Buccaneers during 1976/77 and the 76ers themselves in 2013/14.
The 76ers have lost 16 straight games since the start of the NBA season. Two more defeats would see them equal the New Jersey Nets' NBA-worst mark of 18 losses to open a season.
Head Coach Brett Brown commented: "How many streaks have I been a part of? I'm numb to it."
"It is hard," Philadelphia forward Nerlens Noel added. "You're so close to getting that first [win]. There's a couple of plays that you've got to sleep on."
Jahill Okafor led the 76ers with 19 points and nine rebounds. Hollis Thompson scored 15 points.

For Boston, Isaiah Thomas scored 30 points, Jae Crowder hit a go-ahead three-pointer and Evan Turner added 16 points. The 76ers scored just three points in the final six minutes.

The 76ers raced into 11-point lead early in the final quarter and held that same advantage when Thompson scored with just over six minutes to play, but Boston then scored the next nine points to close the gap to two.

Okafor's three-pointer put the 76ers 80-75 ahead with three minutes left, but the Celtics bagged nine unanswered points to secure the win.
Phil Pressey, who missed a late scoring chance for the 76ers, said: "This one hurts because we've been doing it over and over again. I feel like we're going to get it done. If it keeps happening, we've got to keep watching film and try to correct it."

The Boston crowd had grown restless during the third quarter, and their mood worsened when the 76ers opened up a nine-point advantage early in the fourth.

Jae Crowder admitted that losing to a winless team would have been unacceptable.

"You guys know how much of a disappointment it would have been," he said. "Very, very, very disappointing to all of us, coaches and players."