Messi, Suarez, Neymar: The best Barcelona attack ever?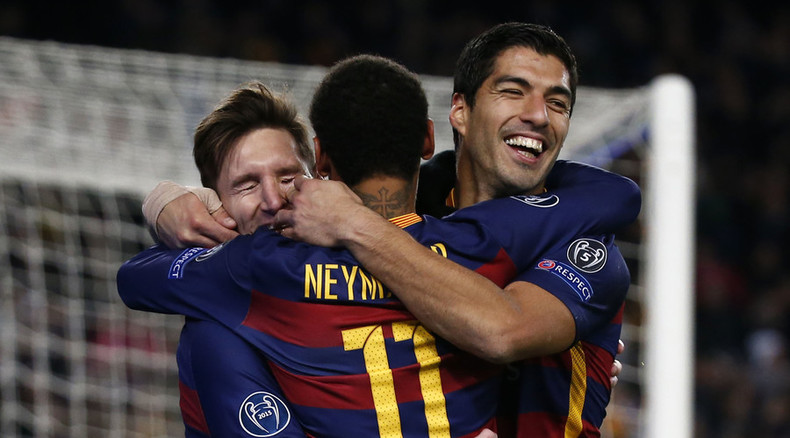 Barcelona's deadly attacking trio put Serie A side Roma up against the sword on Tuesday, securing crushing 6-1 Champions League win at the Nou Camp – but are Leo Messi, Luis Suarez and Neymar the greatest frontline in the club's history?
There has been no answer to Barca's three amigos this season. Unstoppable is a word too often used in football, but with a combined total of 26 goals between them firing the Catalan side to the top of La Liga, it's no wonder they are being hailed as the best front three in the club's history.
There have been some terrific attacking combinations throughout the years at Barca, with the likes of Ronaldinho, Thierry Henry, Patrick Kluivert and Romario just some of the incredible talent to have graced the Nou Camp.
But with 122 goals between them in all competitions in the 2014/15 season, the devastating MSN have a goals tally that bests any that has come before it.

The above list shows the best front Barca trios at different points throughout history, with the 2008/09 trio of Thierry Henry, Samuel Eto'o and Messi coming the closest to the current triumvirate with 100 goals. David Villa, Pedro and Messi slide into third with 98 goals in the 2010/11 season. Spanish striker Villa, who now plays for New York FC in the MLS, was a force to be reckoned with in La Liga, and is still amongst the goals in the US, hitting 18 in 30 appearances in 2015.
In the modern era, the trio of Luis Figo, Luis Enrique and Ronaldo smashed in 73 goals during the 1996/97 season – and were it not for Figo's paltry eight goals in 50 games, they may well have still held the club record.
Luis Enrique, meanwhile, now has the pleasure of unleashing the new titanic trio as manager of Barcelona. Messi, Neymar and Suarez are capable of both individual and collective brilliance. Examples of both were found on Tuesday, with Uruguay's Suarez smashing in a stunning volley, while the final few passes in the build-up to Messi's incredible goal were nothing short of mesmerizing.


Who can stop Barcelona this season?