#EdCrunch 2018: Rethinking education in the age of digital
Published time: 5 Oct, 2018 10:31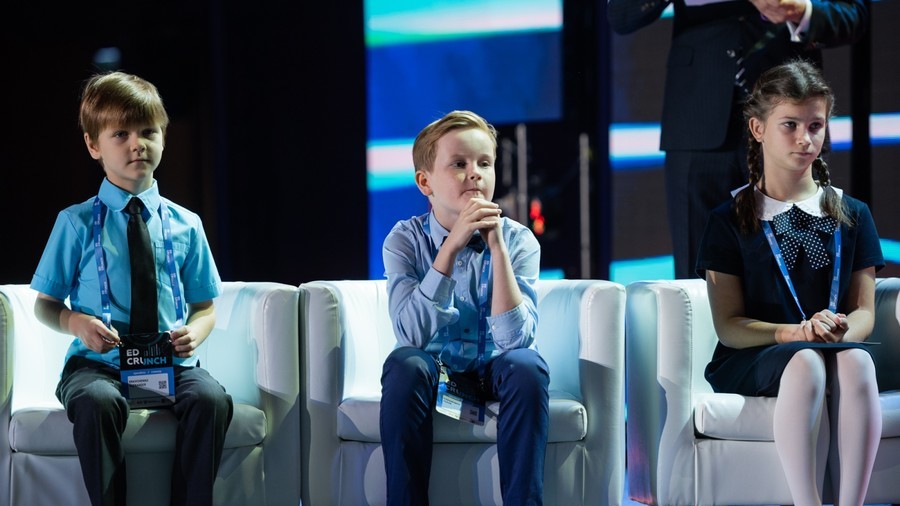 Digital technologies are rapidly changing the world as we know it, influencing the way global society creates, translates, and captures information.
This changes the way children learn and raises more and more questions for those who teach them: how can we keep the youth motivated and adapt educational standards to new needs? How should schools and universities change and what new educational practices should be formed in the future?
Heads of schools and teachers, rectors and university professors, members of the professional community and business elite - all those at the forefront of this global debate came to Moscow from Oct. 1 to 2 to discuss these questions during the fifth annual #EdCrunch conference, Europe's largest educational technologies event.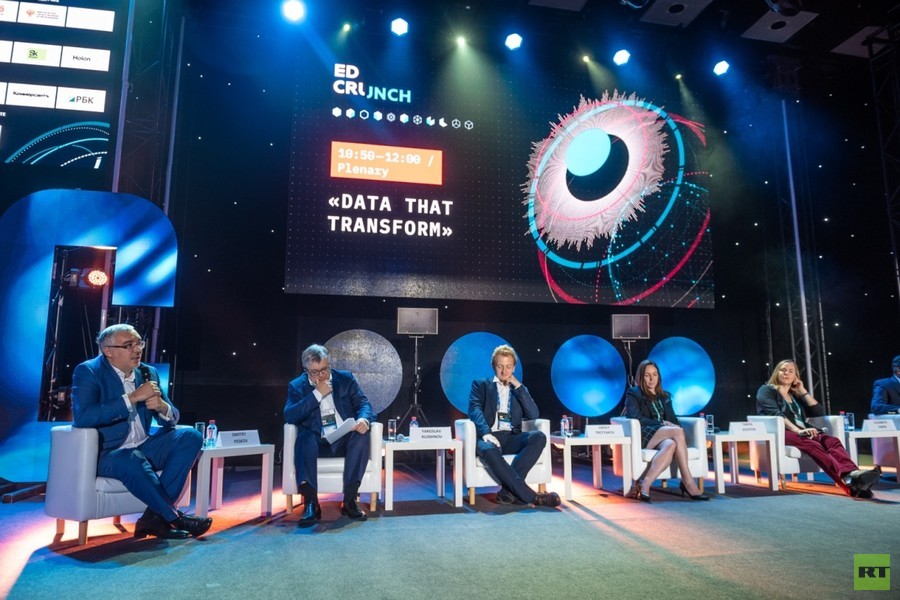 Organized by the National University of Science and Technology (NUST) MISIS and the National Technology Initiative University (University of NTI) "20.35" with the support of the Russian Ministry of Science and Higher Education, the event brought together around 25,000 participants and 300 speakers from Russia and abroad, including Deloitte's Josh Bersin, the HR legend, and Jeff Maggioncalda, CEO of Coursera, one of the leading online education platforms in the world.
"The development of technological innovations is going too fast - even faster than geometric progression," Minister of Science and Higher Education of Russian Mikhail Kotyukov said at the opening ceremony. "We should therefore be ready to transfer the necessary knowledge to people of all ages. How should we do it, what goals should we keep in mind, and what tools should we use? These are the main questions, that not only Russia, but the whole world has to find answers to."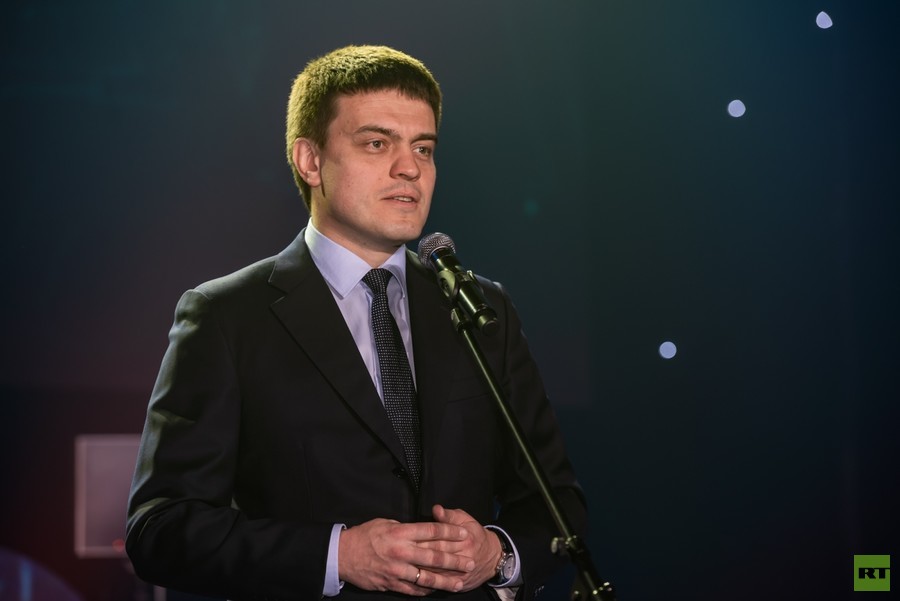 The #EdCrunch international conference is held within the "Modern Digital Educational Environment in the Russian Federation" state priority initiative. Implemented by the country's leading universities, this project is part of the country's policy in the field of education and aims to promote a range of digital methods in existing secondary and higher education institutions, including e-learning, blended learning, massive open online courses (MOOC), and academic analytics.

Big data, remote learning, and robots
Under this year's motto "Data That Transform the World" participants shared modern research and practical solutions in the field of big data in education, from methods for collecting and analyzing educational statistics to the use of blockchain technologies and artificial intelligence in the learning process.
The speakers - world-renowned experts in online learning, educational analytics, school and preschool teaching, corporate education, HR, and educational IT solutions - touched upon such topics as using social media and virtual reality in education, mixing leisure and education ("edutainment"), incorporating modern technology in the classroom, and identifying key skills teachers need today.
Marina Borovskaya, vice minister of science and higher education of Russia, believes that one key skill modern teachers should learn is to be able to deal with vast amounts of data and transfer this knowledge to the younger generation.
"We start to think now that universities can somehow lose their significance. That knowledge will simply come to us through collective consciousness (the Internet) that has encompassed all of us," she said. "As a result, the key task for teachers today is to learn and teach the youth how to verify information…it's vitally important to be able to identify valuable knowledge in huge amounts of information…to find knowledge that will allow us to grow and move forward."
Yet, the speakers don't think that the growth of online learning tools will make offline educational programs, schools, and universities irrelevant. According to Jeff Maggioncalda, CEO of Coursera, learning with someone is always more fun than learning alone. "A lot of learning is about being with other people," he said. "It's a big part of becoming a successful learner."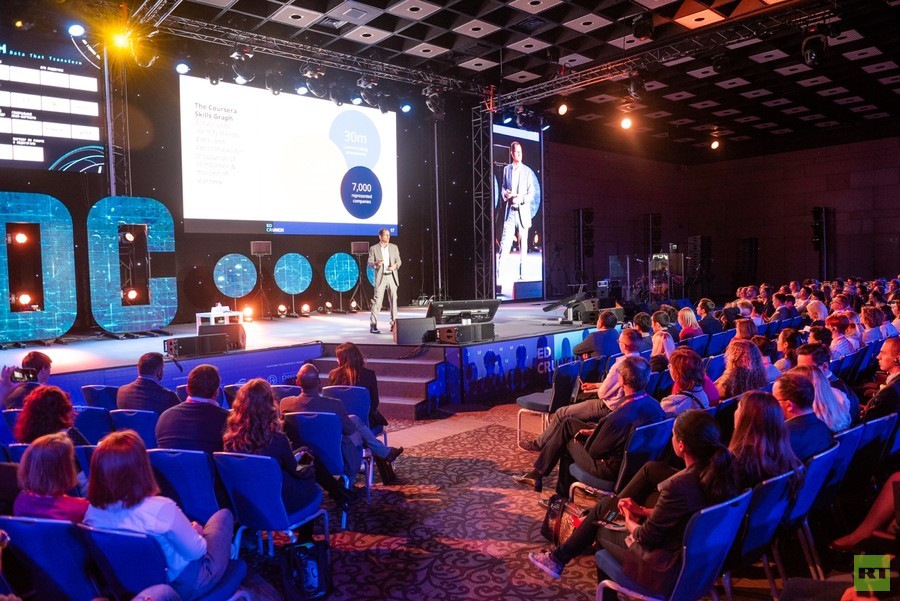 Rector of NUST MISIS Alevtina Chernikova also adds that the profession of a teacher will remain relevant, even with the incorporation of robots into human daily lives. "Robots will never be able to substitute teachers because this profession is a mission, it's about the experience and ability to care for one's students, it's about mentorship," she said. "Robots can become our assistants in life but teachers will remain very important."
A meeting point for education pioneers
Thanks to loads of talks, competitions, and workshops, during the two days of #EdCrunch guests had a chance to participate in more than 100 activities. "I came here to get a sense of what's been happening in the field of education globally and meet interesting people," shared Nikita, a visitor from Russia, who has come to the conference three years running. "I think such events don't really make any conclusions but start new things. They push us to act differently, set more ambitious goals for ourselves, and get a fresh perspective on things we see everyday."
Kristo Lehtonen, the founder of the Finnish education startup 3D-Bear, agrees: "This is a great place for meeting people. It's one of the largest events in Europe in this area helping to make contacts with people from different fields and organizations."
According to Chernikova, the rector of NUST MISIS - the ideologist and the main organizer of #EdCrunch - the conference has indeed been a sort of meeting point for all involved in professional education. Now in its fifth year, #EdCrunch has already become something more than a simple forum, she says. "Here we carry out professional competitions and workshops, determine future trends and successful startups, and hear what students have to say," she explains.
In her words, #EdCrunch has become a full-fledged communication platform that gathers like-minded people - whether they are experts, businessmen, or academics. All of them are united by the common goal of "learning through life," which has become a necessity in a constantly changing world.