Made in Moscow: City government presents local businesses at Hannover Messe 2018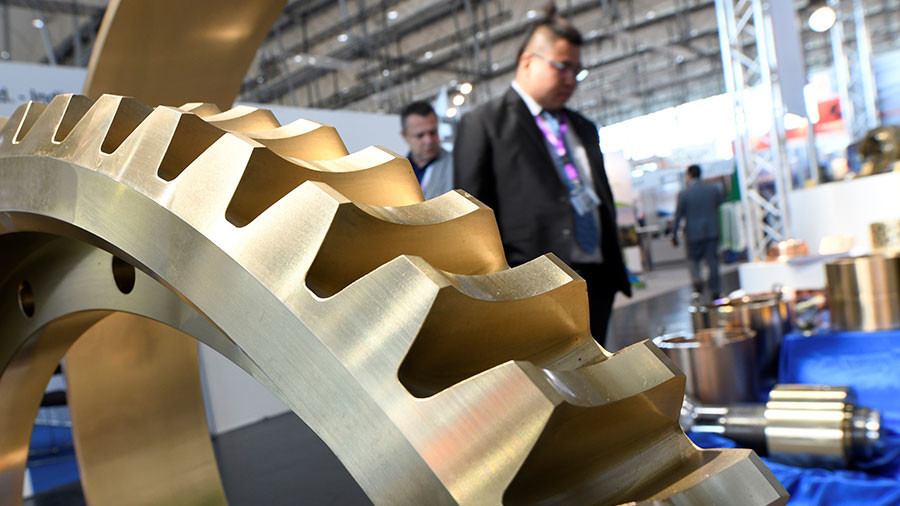 The event was inaugurated by German Chancellor Angela Merkel and Mexican President Enrique Pena Nieto. At the opening ceremony, the two leaders primarily spoke about promoting mutual trade.
Merkel cited the trade deal recently agreed between the EU and Mexico, and said that this was good news. The Mexican president also said he is confident the agreement will benefit both parties, "despite President Trump's protectionist rhetoric."
This year's Hannover Messe was the first one ever to see Moscow's official exhibition stall joined by stands of various Russian companies, united under a common brand: "Made in Moscow." The city government's Department for Science, Industrial Policy and Entrepreneurship assisted with the preparation of each stand.
Today, Moscow is the leading exporter among Russia's regions. The city's company register lists more than 4,700 export firms, which market their products in a total of 189 countries. Moscow accounts for 42 percent of Russia's overall exports, and 19 percent of the nation's non-commodity and non-energy exports. The most competitive export items produced in Moscow include mechanical equipment, computers, communication devices, motor vehicles, optical products, and medical equipment.
To promote Moscow-made products more efficiently in international and regional markets, the city has established the Moscow Export Center. It assists Moscow-based businesses in entering new markets, setting up their operations in digital marketplaces, securing financial support from the city government, presenting their products at major international trade fairs, and keeping up with all the relevant trends regarding foreign trade.
The city's official stall showcased the Moscow Investment Portal, a catalogue of export products offered by city-based companies, and the Moscow Technopolis special economic zone, complete with support measures extended to its potential resident and investors. It also featured positive experiences and success stories from foreign companies that have already started doing business in the Moscow region.
Kristina Voloknitskaya, deputy head of the Science, Industry and Entrepreneurship Department, said one of City Hall's priorities is attracting investment in order to localize production and create jobs. "Investors always ask us two questions: How much will it cost, and how efficient will it be? Specially for them, we have developed an interactive map that displays vacant real estate and available spots at industrial parks," explained Voloknitskaya.
Moscow currently has 33 industrial parks, so being able to choose among them requires a map listing detailed information, such as facilities' floor spaces, original purposes, and even cost-effectiveness analyses, comparing operations to similar projects in places like Germany, taking into account additional investment and refitting expenses.
The companies brought to this year's Hannover Messe by the Moscow city government had their stands put on display in various industry-specific pavilions, such as IT solutions, energy, integrated automation, industrial supply, digital factory, and others. Together, they presented more than 60 solutions that successfully compete in the global market.
Deputy Head of the Science, Industry and Entrepreneurship Department Emil Petrosyan presented a comprehensive catalogue of the Moscow Export Center, which currently lists 475 businesses and over 3,000 products. The number of Moscow-based production companies is expected to double by the end of this year.
"All products in this catalogue are divided into 12 categories," explained Petrosyan. "You can pick a specific company and see its description, what kind of products they offer, and even their competitive advantages. What's also important, our catalogue uses the same commodity description codes as they do in Europe, so if you're looking for a specific product, all you need to do is enter its HS code in the search box."
Although this trade fair was the first of its kind for almost half of the 'Made in Moscow' companies, they managed to close a number of important deals on the opening day of the Hannover Messe. Russia's Kosco Group signed an export contract for its machine tools with Maschinen Log Pro GmbH, while Germany's Progress IV Management GmbH agreed to collaborate on scientific research and technical innovation with three Moscow-based universities.
A representative of Kaspersky Lab told us his company was showcasing its own operating system, which enables increased protection for embedded solutions. To illustrate the system's reliability, they used a model traffic light at a road junction. The system secured it against accidentally putting on a green light simultaneously in conflicting directions – to the point that if someone were to switch the system to manual control and deliberately try to cause this kind of glitch, the operating system would block that and perform instant recovery, treating the interference as a software failure.
New international business connections and prospects for cooperation with major companies are some obvious takeaways from the Hannover Messe for the Russian companies.