Opposition parties nominate their presidential candidates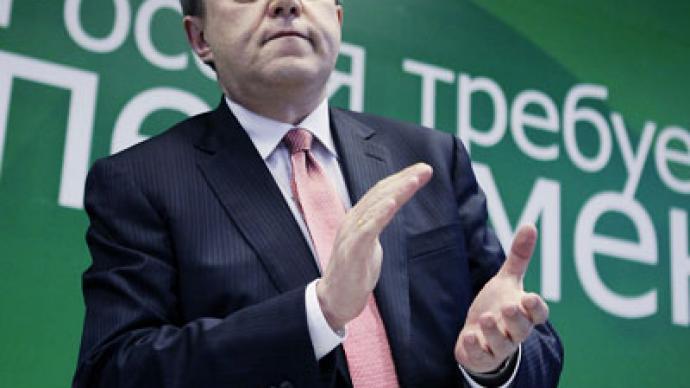 Two more candidates – the Communists' leader Gennady Zyuganov and Yabloko party founder Grigory Yavlinksy – have joined the Russian 2012 presidential race.
On Saturday, the congress of the Russian Communist Party (KPRF) unanimously nominated its leader Zyuganov to run for president. "I realize it was difficult for some congress participants to do that because of my complicated and demanding character. I thank you for understanding the situation and I believe you have voted for our team, our party, our program, and beloved Russia," Zyuganov told the delegates, as cited by Itar-Tass. On Monday, the KPRF leader submitted documents required to be officially registered as presidential candidate to the Central Election Commission (CEC). It will be the fourth time that Zyuganov, 67, will be battling for the Kremlin post. The previous three times – in 1996, 2000 and 2008 – he came second. Zyuganov promised to hold a new parliamentary poll if he is elected president. He also stated that TV and radio debates between all presidential candidates – including Prime Minister Vladimir Putin – should be mandatory. Another veteran politician – the founder of liberal party Yabloko and its informal leader, Grigory Yavlinsky – is also going to take part in the March 4 vote. His candidacy was supported by 106 delegates of the party's congress on Sunday; three people favored an alternative candidate from the party, actor Viktor Balabanov.The party has until January 18 to gather two million signatures from across Russia in support of Yavlinsky's candidacy and only after that he can be officially registered as presidential candidate. If everything goes well, it will become Yavlinsky's third bid for the Kremlin: he participated in the in 1996 and 2000 votes. Among other things, the Yabloko leader promised to pardon the jailed ex Yukos CEO Mikhail Khodorkovsky if he wins the race. Meanwhile, the CEC denied opposition politician Eduard Limonov, the leader of unregistered Other Russia party, the chance to participate in the 2012 presidential poll. The commission turned down the registration request from a group of voters in support of his self-nomination as an independent candidate, since they failed to enclose a certified protocol from their meeting in support of Limonov on the registration of their members, the electoral authority explained, as cited by RIA Novosti. Limonov is set to continue fighting, though, and stated that the CEC decision was illegal. Earlier, three more opposition politicians announced their presidential ambitions. Those include billionaire Mikhail Prokhorov – recently ousted from the leadership of the right-wing party Right Cause, leader of the Fair Russia party Sergey Mironov, and the chairman of the Liberal-Democratic party, Vladimir Zhirinovsky.
You can share this story on social media: