'Zombie Parade' banned in Siberia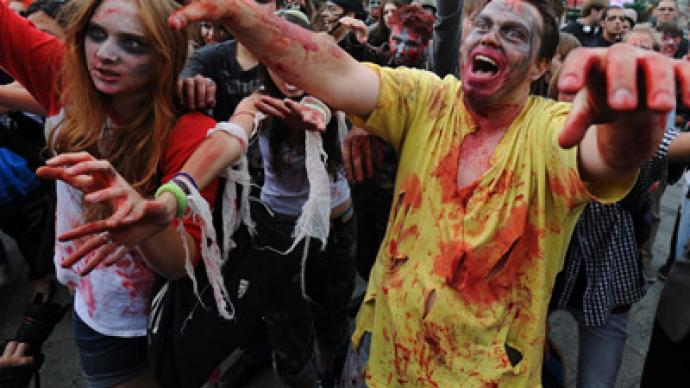 Authorities in the Siberian city of Omsk ban have reversed their decision and decided to ban a 'Zombie Parade' after criticism from the Orthodox Church and other public organizations.
The organizer of the youth event Mikhail Yakovlev, said the city administration named three reasons for their decision."Firstly, I supposedly failed to notify them in time. Secondly, I did not submit a program of the event. I did both things, though. But the third reason is most shocking: they said the Zombie Parade contradicts the Russian Constitution and the Human Rights Declaration," he told Metromsk news portal.However, in a private conversation with an employee of Omsk's district administration, Yakovlev found out that the 'raising of the dead' was frowned on by a number of organizations, including the local Orthodox Church and the Muslim Community. "The' Zombie Parade' bears no ideological or protest meaning: it is simply an entertainment for youngsters," Yakovlev told RIA Novosti.The event – which was planned for August 19 – was officially announced as a costume exhibition. About a hundred people – disguised as zombies and smeared with artificial blood – were to march through Omsk's central street and then have a photo shoot. The idea was not welcomed by the public, the head of the security department in the administration, Vasiliy Kostyuk told the agency."We received letters from Orthodox Church priests who said they were against the event. Territorial self-government committees also voiced their opposition," he said. The Omsk Eparchy confirmed that they asked the authorities to ban the parade, but stressed that they acted as a member of civil society and on behalf of their parishioners."In our letter we used universal arguments but not religious. We said that a meeting with a person wearing a blood-stained dress may be harmful to children and the elderly. This way we expressed the opinion of a large number of our parishioners," the eparchy's press secretary Grigory Gnidenko said. The Muslim Council of Elders in the Omsk region denied they sent any letters to the administration. At the same time, its chairman Fagkhat Sagadeyev said they support the ban, since for three days starting from August 19, the believers will be celebrating Uraza Bairam – the end of the fasting month of Ramadan. He gave no explanations on how exactly the' Zombie Parade' would hamper the celebrations, reported Metromsk. Meanwhile, the parade organizer is planning to appeal the ban in court. "The city administration is very distant from young people. They hold other events such as car rallies, but it's not enough," he said, adding that more positive and creative activities should be organized. Otherwise, if young people have nothing to do, they will take to streets and participate in protest gatherings, Yakovlev pointed out.Previously the activist had organized a rally 'For Fair Events'. A chain of such protests swept through the country following the December 4 parliamentary vote, which protesters believe was fraudulent.