Lib Dem leader urges limits on party comrades' sex lives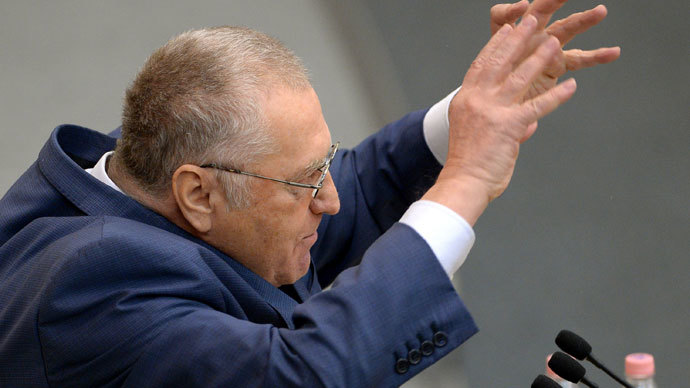 After last year's bans on alcohol and tobacco, as well as a strong urge for vegetarian diet in the Liberal Democratic Party, its leader announced that he would prefer the party members not copulate more than three to four times a year.
Sixty-seven-year-old Vladimir Zhirinovsky made this statement on Tuesday as the State Duma gathered for the first session of the New Year. He explained that under influence of pornography and "frivolous" movies, the younger generation was developing the misapprehension that the more frequent sex is, the better. The politician insisted that the contrary approach was right.
"The less often the better. And only under condition of mutual sympathy. Once a quarter should be standard – three or four times a year is enough," Zhirinovsky stated.
Zhirinovsky also called for the parliamentarians to discuss the possibility of a ban on the depiction of alcohol and tobacco consumption in Russian movies. He went on to suggest a prohibition on the exhibition of existing films containing such scenes, in particular the popular Soviet-era comedy 'The Irony of Fate', the plot of which is based on a drunken confusion that leads to a happy ending.
In December last year, Zhirinovsky put his party name in the headlines by announcing that all of its members would soon abandon meat and become vegetarians. The decision was based on positive experiences in foreign countries such as Norway, the politician said, adding that he personally had already been a vegetarian for many years.
Vladimir Zhirinovsky entered Russian politics in the very beginning of its modern phase –the Liberal Democratic Party was founded in 1989 as the only opposition party in the Soviet Union and re-registered as the LDPR in 1991, after the foundation of the new state of the Russian Federation.
From the very beginning the party was known for its controversial nationalist and rightist rhetoric, apparently aimed at the broader masses. In time, Zhirinovsky had to use more provocative strategies to remain at the center of attention and eventually he came to promises of free vodka and 'a man for every woman', as well as simply handing out banknotes during his campaign tours.
One of the latest scandals involving Zhirinovsky took place in the end of last year when during a televised talk show he suggested the authorities tackle the threat of terrorism by imposing a curfew and birth controlin the predominantly Muslim regions of Northern Caucasus.
The statement caused an outcry from mass media and regional officials, such as heads of the North Caucasus republics of Chechnya and Karachay-Circassia. Zhirinovsky had to come up with explanations, and played down the statement slightly, saying that what he offered was just one, most radical solution of an acute problem.
You can share this story on social media: