Liberal Democratic leader called "enemy of the people" by party fellows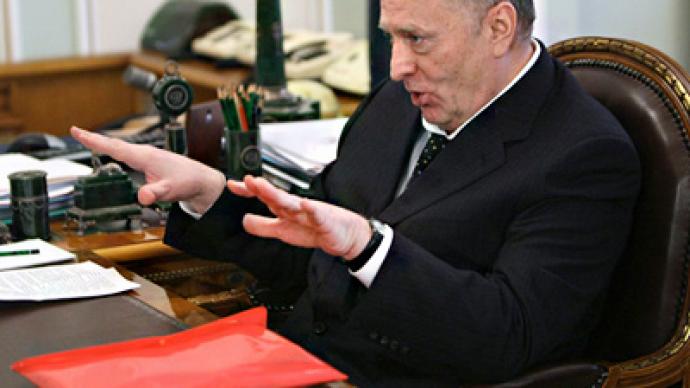 Vladimir Zhirinovsky's anti-Caucasian statements are in fact anti-Russian, some members of his party have reportedly said.
Russian media have received an open letter signed by almost 30 members of Lipetsk regional branch of the opposition Liberal Democratic Party (LDPR). They are attacking Zhirinovsky's policies and calling the flamboyant politician "the mouthpiece of anti-Russian forces and enemy of the people." For the LDPR leader, who keeps saying he is "for the Russians, for the poor," this accusation must have come as the greatest and most unpleasant surprise. Ironically, leaders and politicians of North Caucasus republics have recently accused him of voicing anti-Caucasian views and "inciting interethnic hatred." He drew criticism after he had said in a TV program that Slavic Russians should be protected in their own country. He added that people living in Chechnya, Dagestan and Ingushetia pay less tax and get more subsidies from the federal center. That was enough for many politicians of the three national republics to demand that Zhirinovsky was dismissed as the State Duma deputy speaker and his party suspended. Now, some members of Zhirinovsky's party have joined the chorus of critics. "He is making chauvinistic statements heard in the whole of Russia, provoking interethnic enmity and hatred," their open letter said. The group even noted that Zhirinovsky played into the hands of "anti-Russian forces that prepare the country for breakdown, separation of Caucasus from Russia and fratricidal war." The activists from Lipetsk called Zhirinovsky "the enemy of the Russian state, ethnic Russians and all other peoples," Gazeta daily said. They also accused him of working in tandem with the ruling United Russia party and betraying the interests of his party fellows. Members of LDPR's Lipetsk branch also reportedly criticized Zhirinovsky for his tough policies inside the party, resulting in the replacement of coordinators in several regions. The party's leadership, however, cited just these internal disagreements as the main reason behind the appearance of the anti-Zhirinovsky letter. Deputy chairman of the LDPR faction in the State Duma Sergey Ivanov said several dissenters in the Lipetsk branch have used the scandal over Zhirinovsky's anti-Caucasian statements "to bring their conflict to the federal level." Coordinator of the Lipetsk regional branch has said the letter has been written by unknown people. All LDPR people support their leader's policies, he said, adding that no one wanted to quit the party. Some believe the letter attacking Zhirinovsky could have been a provocation of the party's opponents before the March elections to local municipalities. The Liberal Democratic Party was the first authorized opposition party in the Soviet Union. In 1991, it became the Liberal Democratic Party of Russia, and outspoken and charismatic Zhirinovsky has been its unchallenged leader since then. Many activists understand quite clearly that the party repeatedly enters parliament only thanks to Zhirinovsky's personal popularity among part of the electorate.
You can share this story on social media: