"Timoshenko is my greatest mistake in five years" – Yushchenko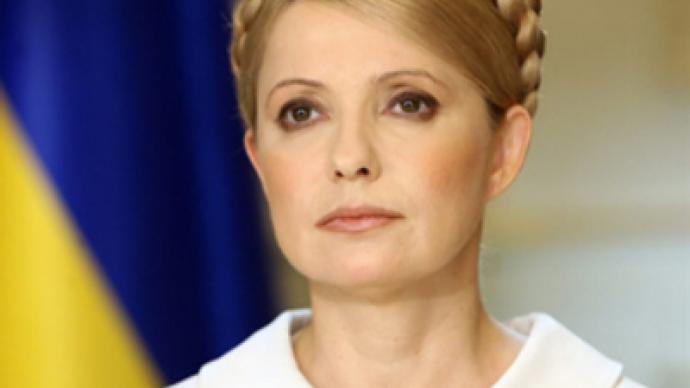 "I hate politics, but understand that without being involved in it, you won't do good for your nation and your country," said Ukraine's outgoing president, summing up his presidency at a press conference in Kiev.
He said, during his presidency he fought for his country as a "little soldier."
"I was that little soldier who fought for his great grandfather's dream that our independent, sovereign Ukraine would follow its own path," Yushchenko said.
He also admitted that during his term in office, his greatest mistake was appointing Yulia Timoshenko as Prime Minister in 2007: "Timoshenko is my greatest mistake in five years."
Yushchenko accused his former ally of failing to implement badly needed reforms in the country, saying also that she is personally responsible for the absence of a state budget in Ukraine this year.
He also added that even though Timoshenko wasn't elected this time, Moscow would not have minded if she had won, because in his view the participation of both Timoshenko and Viktor Yanukovich in the presidential race was a "purely Kremlin-orchestrated project, regardless of the winner – either Timoshenko or Yanukovich."
The "Kremlin's project" is aimed at "creating Ukraine's profound dependence on Russia," he added.
He argued that since Yanukovich won, he expects Ukraine's foreign policy to change, saying that the presidential run-off is a defeat to Ukraine's European integration. He also warned that the incoming president will have difficulty forming relations with countries in Western Europe, but will do his best to pursue a successful policy in the East.
Russia's current president, for his part, has never concealed his personal enmity toward his Ukrainian counterpart. Even before the election results had been officially confirmed, Russian President Dmitry Medvedev said, Russia was ready to work with Ukraine's newly-elected head of state, admitting it was "not prepared to work with President Yushchenko."
It seems that not only is the Kremlin not prepared to work with Yuschenko, but Yuschenko himself is not ready to work with his former political rivals. Thus, he is not planning to attend the inauguration ceremony of Yanukovich on February 25. However, he added, he would meet with Yanukovich after the ceremony, as in his view that meeting would demonstrate a transition of power in Ukraine. After a long dispute, the victory of Yanukovich, leader of the Party of Regions, was officially confirmed by the Ukrainian Central Electoral Commission on February 14.
Commenting on his future plans, the outgoing president said that he is "open to dialogue" about the possibility of him taking the post of Prime Minister, although he has not been approached with that offer yet.
"It would be a big mistake to appoint the country's Prime Minister from among members of the Party of Regions, which is highly probable. Monopolization of power will be a great lapse," added Yushchenko.
Yushchenko said that he wasn't surprised at Yanukovich's latest statements about the status of the Russian language, creating a gas-transport consortium with Russia and possible prolongation of Russia's Black Sea Fleet deployment in Ukraine. He has warned the incoming president against Russia's Black Sea Fleet presence in Ukraine.
"It's a destabilizing factor; it is an unhealed wound harming our national dialogue," he said. "Russia's Black Sea Fleet should be withdrawn from Ukraine after May 28, 2017."
Yushchenko, however, added that such a step should not be deemed as anti-Russian.
At the same time, Yushchenko also expressed hope that his decree to award the title of Hero of Ukraine to the controversial World War II figure Stepan Bandera will not be annulled. He stressed that his decision was not political and called on the Ukrainian nation to respect its history. Bandera was the leader of Ukraine's nationalist organization, and was accused by many of cooperating with the Nazis during World War II. After winning the elections, Yanukovich said that awarding Bandera with such a title is "very controversial for our country and it would have an influence on a further split of our country." However, he said, he would further look into this decree.
As for future plans, Yushchenko said, he would like to take a 10-day holiday after the inauguration, but he is not planning to retire from politics.
"I hate politics, but think that you would really harm your nation by leaving it," he said.
He said that he is planning to concentrate now on the parliamentary elections, saying that he is not worried about what approval ratings he has among Ukrainians or what post he will be taking.
"I have a good diploma and qualifications, and there are several professions that I can join," he concluded.
Olga Masalkova, RT
You can share this story on social media: