Opposition leader takes Medvedev's advice to fight electoral bureaucracy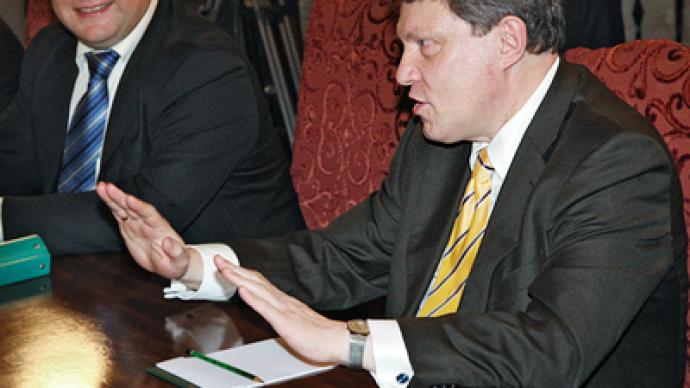 The head of the liberal Yabloko party, Sergey Mitrokhin has asked the head of the presidential administration for assistance in registering candidates in regional elections.
Mitrokhin has forwarded an official complaint to the President's Chief of Staff, Sergey Naryshkin. Lacking representatives in parliament, the Yabloko leader listed a number of violations relating to the process of registering candidates. Local legislative elections will be held in 12 regions on March 13.  Yabloko's leader requested that Naryshkin take measures so that the regional election commissions, which did not register candidates, changed their decisions. The Central Election Commission has received about 200 complaints from parties about alleged violations during the election campaign. However, Mitrokhin decided to send a letter to the presidential administration's head as well, on the advice of the president.During his meeting with heads of four parties represented in the State Duma on February 19, Dmitry Medvedev noted that complaints could be sent directly to the presidential administration. This was in response to Communist Party chief, Gennady Zyuganov and the head of the Liberal Democratic Party Vladimir Zhirinovsky, who also complained about violations.In most cases, candidates were not registered because the signatures they collected to participate in the elections were invalid. Yabloko said that of its total 66 candidates, 43 had not been registered for this reason. With more than 45 percent of unregistered candidates, the liberal party came out as the leader in this category."Currently, regional and municipal authorities have turned the system of the collection of signatures into an instrument for disqualifying candidates and party lists they dislike," Mitrokhin said in the letter to Naryshkin. Yabloko's leader believes that such an approach violates citizens' electoral rights guaranteed by the Constitution. Only four parties represented in the lower house of the parliament – United Russia, Fair Russia, the Communist Party and the Liberal Democratic Party – have managed to register their candidates in all 12 regions. The Patriots of Russia will take part in elections in six regions.  Critics say that Yabloko itself is to blame as it failed to garner enough voters' signatures to register candidates. It will participate in only two regions, where elections are being held based on party's lists. Yabloko's leadership cites the reluctance of potential voters to put down their signatures and "bureaucratic motives" of election commissions that label many signatures invalid. Yabloko lost its representation in the Russian parliament in 2007, gaining support of only 1.6 percent of the voters.  
You can share this story on social media: