Cossack vigilantes start patrolling Moscow streets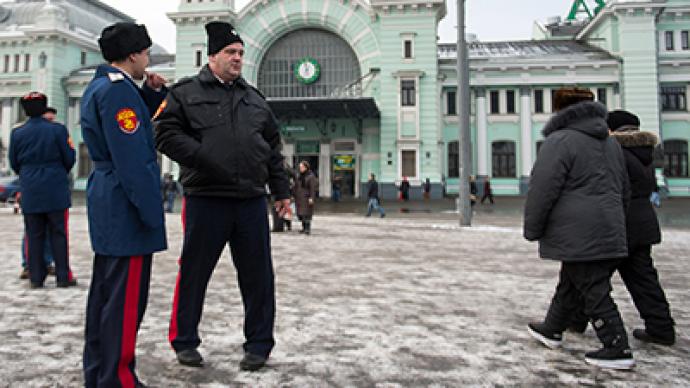 Moscow authorities and police have not opposed the first Cossack patrols in the city center, but the neighborhood watch lacks legal power and accountability.
The first Cossack patrol started working near the Belorusskiy railway station in central Moscow this week. A group of unarmed men will search for illegally parked cars and unlicensed street vendors, the city authorities said. However, it will be up to the police to enforce the law as the Cossacks have no right to force anyone to do anything. The watch was initiated by Cossack groups in Moscow and is supported by the leadership of city administration who hold positions in the Cossack organization. The instigators told the press that they acknowledge all the organizational problems but added that they wanted to understand the public attitude to the patrols in order to draft further plans.
Judging from media reports and blogs, the public attitude was not very welcoming – commentators ridiculed the Cossacks' dress and suggested people with no powers should not take on police functions. The comments even caused the Moscow Police Directorate to distance itself from the patrols – a police representative says the Cossack activities were regulated by city prefects and the official neighborhood watch and the Interior Ministry had nothing to do with them. At the same time, the head of the Cossack Host of Southeast Moscow, Igor Gulichev, told the press that the police appreciated the help. He also added that his organization was similar to Texas Rangers in the US and called upon the authorities to copy the US approach to such movements.This is not the only misunderstanding and conflict within the Russian Cossack community. After a group of Cossacks announced that they were forming the Cossack Party of the Russian Federation at the weekend, the larger and more recognized group – the Kuban Cossack Host denied them any support and criticized the idea of the party as harmful and potentially divisive. Kuban Cossacks insist that they are a people, not a political group and demand that they are treated accordingly.
The Cossacks were several groups of Russian-speaking people with distinctly militarized culture and special rights within the Russian empire. They lived along the country's borders and served as professional soldiers and border guards. Cossack ideology was strongly Orthodox and Monarchist and most Cossacks were natural enemies of Bolsheviks and therefore suffered heavily from the post-revolution repression.The nationalist moods in Russia after the breakup of the Soviet Union led to the restoration of the Cossack movement, but also led to some peculiarities, like the appearance of the Cossack Hosts in central Russian regions. According to the 2010 Russian census there are currently about 67,000 Cossacks in the country.
You can share this story on social media: