Washington on the war path: Civil society as battering-ram (Op-Ed)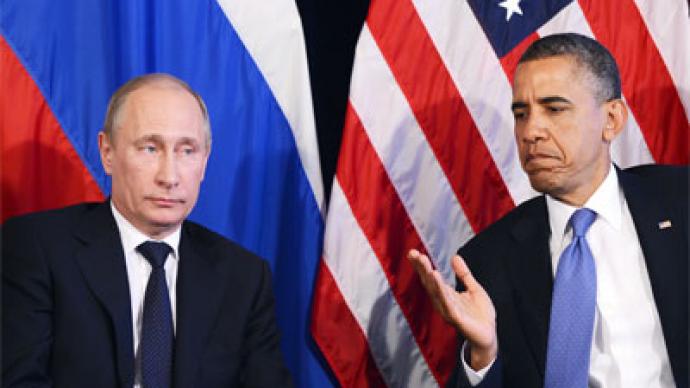 Washington, it seems, has found a new way to deal with incompliant leaders such as President Putin: simply go around them and talk directly to their people.
In the past few days, State Department officials, old Russia hands and major columnists have all proposed the same idea. Last Friday January 25, at the Daily Press Briefing, State Department spokesperson Victoria Nuland confirmed that the US "has decided to withdraw from the Civil Society Working Group of the US-Russia Bilateral Presidential Commission in light of recent steps taken by the Russian Government which impose really strong restrictions on civil society". Nuland explained the new approach, "we would rather direct our efforts in other ways and continue to work on our direct support for civil society organizations who want to work with us."The suggestion to "tone down, if not eliminate outright" the Bilateral Presidential Commission was aired back in December 2012 by the Kennan Institute's acting director William Pomeranz in his paper "Moving Beyond the Reset" . In reassessing its Russia strategy, the Obama administration must "find low-profile, sustainable programs that bypass Putin and high-level politics and instead directly engage with the Russian people", says Pomeranz. He also gives an unusually frank definition of the "reset", the true meaning of which has been puzzling many Russians: "The United States used its reset policy in large part to enhance the credibility of Russian President Dmitry Medvedev and to make him appear to be a more important international player then he actually was". On January 22, the New York Times' Thomas Friedman, called to "break all the rules" in dealing with inconvenient leaders. His advice to the incoming Secretary of State includes "trying something radically new: creating the conditions for diplomacy … by going around leaders and directly to the people. … We live in an age of social networks …. There's no more just top-down". Do not negotiate with governments, negotiate directly with the people, is Friedman's recipe. On January 24, writing in the New York Times, familiar opponents of Russia, the former US ambassadors Denis Corboy, William Courtney and Kenneth Yalowitz discussed "Dealing With Two Russias". To them, there's a "modernizing Russia" – Medvedev's, obviously – that sends children abroad to study, facilitates supplies for NATO forces in Afghanistan, backs sanctions on Iran, etc. And there is a "retrograde Russia", where "democracy-building groups are under assault, dissidents are thrown into psychiatric hospitals and justice is politically rigged". The ambassadors suggest "the West should employ differing strategies in dealing with each of the two Russias". Regretting that 'patriotic' forces are now in power, the ambassadors believe that they are "increasingly alienating the urbanized and educated".
Denis Corboy, a visiting senior research fellow at Kings College, London, served as European Commission ambassador to Armenia and Georgia. William Courtney was US ambassador to Kazakhstan and Georgia, and special assistant to the president for Russia, Ukraine and Eurasia. Kenneth Yalowitz served as US ambassador to Belarus and Georgia.
This will not be America's first attempt to stir up a civil conflict in a country whose leadership does not play by Washington's book. Removing a non-compliant leader is usually executed through the agency of the opposition, bred and groomed by the US government and "private" foundations; if "velvet" or "color" revolutions don't work, then armed opposition and terrorists come into play, as in Syria since March 2011. Regarding the specifics, Victoria Nuland explains how the State Department is planning to circumvent new Russian laws on NGO funding and the closure of USAID: "… there are lots of countries where we do this from the United States. We do it from offices in third countries". The rule of law had always been the battle cry of Western governments and NGOs. However, when the law does not suit their agenda and was not written by USAID-funded lawyers, obviously, from the State Department's point of view, it should be broken.  Indeed, the National Endowment for Democracy (NED) structures – the National Democratic Institute (NDI) and the International Republican Institute (IRI) – have preemptively left Moscow and taken positions in third countries. Where? The NDI moved to Lithuania, the IRI to Poland. In addition to being the most virulent anti-Russian countries, Poland and Lithuania are also known as hosts of CIA secret prisons. In Lithuania, a criminal investigation into the matter was closed, in Poland it has been dragged out, because it might "link some of Poland's most senior politicians with illegal detention and torture", according to Reuters.More specifics from Kennan Institute's Pomeranz: he recommends employing the resources of America's European allies and specifically the European Court of Human Rights before which "every controversial piece of legislation passed by Putin invariably will be contested". Pomeranz also stresses developing professional, cultural, scientific and scholarly links, interaction through the Internet, and even tourism: "Those connections should be cultivated as a means to bypass Putin and the anticipated political roadblocks". Friedman explains his "breaking all the rules" principle taking Iran as an example: "Rather than negotiating with Iran's leaders in secret …, why not negotiate with the Iranian people? President Obama should put a simple offer on the table, in Farsi, for all Iranians to see… We should not only make this offer public, but also say to the Iranian people over and over: "The only reason your currency is being crushed, your savings rapidly eroded by inflation, many of your college graduates unemployed and your global trade impeded and the risk of war hanging overhead, is because your leaders won't accept a deal that would allow Iran to develop civil nuclear power but not a bomb."Barack Obama previously reached out to the Iranian public over the heads of the Iranian leadership, when he issued a video address using the spring festival of Nowruz in March 2009. A few months later, during the June 2009 presidential elections, 36 Iranians died during the protests, 20 of whom were policemen. We have been warned. Moreover, when America issues threats, it usually underplays the menace, and the reality is often more brutal. Patriotic societies in countries that refuse Washington's dictates should be on alert.
Veronika Krasheninnikova
You can share this story on social media: