Russia-US adoption agreement valid till 2014 – Putin's spokesman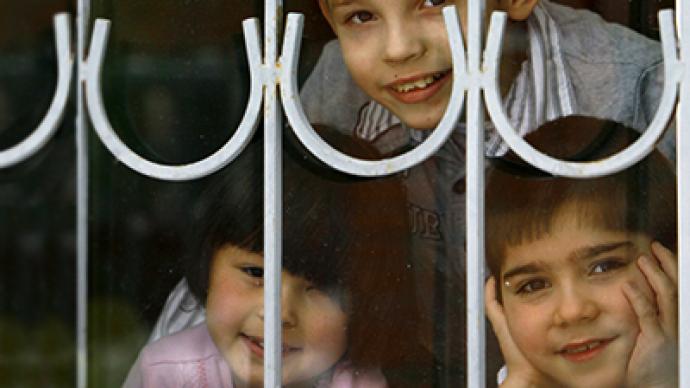 Russian presidential press secretary, Dmitry Peskov, explains the Russia-US adoption agreement is still in force and will remain so "until the first day of January 2014".
The interstate agreement between the two nations must remain in force for one year after either of the parties informs the other about its intention to end it. On January 1 Russian Foreign Ministry officially notified the US State Department that Russia was stopping its participation in the adoption agreement as the Dima Yakovlev Law came into force in the country. A few days later State Department spokesperson Victoria Nuland announced that her agency had received the Russian note. The US official added that between 50 and 200 Russian orphans were at different stages of adoption procedure and expressed hope that these children could make it to their future families despite the ban.The Dima Yakovlev Law is Russia's reply to the US Magnitsky Act and among various sanctions against US officials allegedly complicit in human rights violations it introduces a complete ban on adoption of Russian orphans by US citizens as well as any participation of US organizations in adoptions of Russian children.The initiators of the amendment and the MPs who backed the bill said US courts were handlingthe cases of ill treatment or even manslaughter of adopted Russian children with inadmissible leniency and Russia had no other option than to stop the process completely. President Vladimir Putin also supported the move blasting the US attitude to Russian demands and complaints as arrogance that cannot be tolerated.Russian society was split over the bill. In many people's view the amendment would deprive many orphans of a chance of a better life with an American family and sometimes medical treatment that they need but cannot afford at home. Dozens of protesters picketed the parliament as the Lower House voted for the bill and besides, about 100,000 signed a petition asking to recall the adoption ban.Russian legislators pointed out that the country must develop its own mechanism for the care of orphans and approved a framework program for improvements.The opponents of the bill are maintaining their protest with a major rally scheduled for January 13 in Moscow.
You can share this story on social media: