Thailand suffers Bout of insanity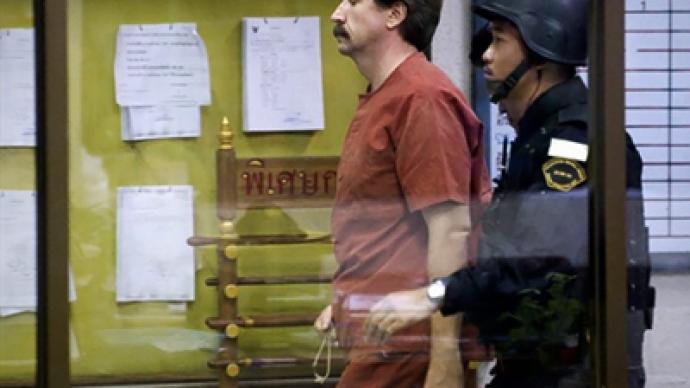 Bangkok officials, without proper notification to Russian diplomats in Thailand, whisked alleged Russian arms dealer Viktor Bout out of the country today on a US-bound aircraft.
In an incredible reversal of fate, Russian businessman Viktor Bout has gone from being exonerated by a Thai lower court (August 2009) after being caught up in a US sting operation, to being declared guilty one year later in a Thai appeals court, to being extradited to the United States, where he may face charges of arms smuggling and possibly even supporting terrorists.Thai media reported that Bout departed from Bangkok aboard a US government aircraft at 1:30pm (09:30 MSK). Meanwhile, Russian diplomats in Thailand say they were never informed of Thailand's decision to extradite Bout."Everything was done very fast, urgently and we…have a feeling that it was done secretly. It's surprising," Andrei Dvornikov, the head of the consular section of the Russian embassy in Bangkok, told Interfax on Tuesday. "We are surprised by the urgency of this extradition. Viktor Bout was on the plane less than three hours after the Thai government made its decision."Dvornikov added that the Russian consul attempted to arrange a meeting for Bout with his wife and lawyer, but those efforts failed. Meanwhile, the Russian Foreign Ministry said in a statement on Tuesday that the extradition of Viktor Bout is a result of "unprecedented pressure" placed on Thailand by the United States."There is no doubt that Bout's illegal extradition is a consequence of unprecedented pressure put on the Thai government and courts by the United States," the Russian Foreign Ministry said in a statement on Tuesday.The Russian Foreign Ministry went to label the judicial process and extradition of Viktor Bout as "illegal.""We profoundly regret that the Thai authorities have yielded to external political pressure and illegally extradited Bout," it said. "From the legal point of view what has happened cannot have any rational explanation or justification."The statement added that this blatant interference in Thailand's judicial system casts doubts on the Thai judiciary and government's independence.Meanwhile, Bangkok tried to downplay the move, saying it would not negatively affect Thai-Russian relations.Head of the Thai National Security Council Thawil Pliensri told reporters on Tuesday that "the extradition of Russian citizen Viktor Bout to the United States will not affect relations between Thailand and Russia."At least one Russian politician disagreed with that assessment of the situation.The Thai authorities have shown disrespect by failing to notify Russia beforehand of their intention to extradite Viktor Bout to the United States, the outspoken leader of the Russian Liberal Democratic Party, Vladimir Zhirinovsky said."This is what disrespect toward a country is. They are obligated to warn us about a Russian citizen being sent to another state," Zhirinovsky told Interfax on Tuesday.Finally, the lawyers defending Mr. Bout have called his extradition "unlawful, as not all procedures have been completed in the Appeals Court."A case of political intrigueThe case against the alleged arms smuggler has been stained by outside political intrigue from the very moment of his arrest.Viktor Bout was arrested in Bangkok in March 2008 following a sting operation allegedly organized by US law-enforcement agencies. The agents, posing as members of the Revolutionary Armed Forces of Columbia (FARC), told Bout they were looking to buy weapons.Bout was then placed under arrest upon the request of the US authorities.Meanwhile, many observers, including intelligence and police experts, suggest that the real motive behind Bout's extradition to the United States is due to his allegedly "extensive" knowledge of Russian military and intelligence operations.Russian sources, however, deny that Mr. Bout was in any sort of position to gain valuable intelligence.Bout, a former Russian army officer, has maintained his innocence throughout his trial and tribulations, saying he was "set up."America's full court pressOn August 10, 2009, it appeared that Viktor Bout would win back his freedom when a Thai court decided that the case against him was "political, not criminal," writing that Thailand does not consider FARC to be a terrorist organization."The US charges are not applicable under Thai law," the first judge to hear Mr. Bout's case declared. "This is a political case. The FARC is fighting for a political cause and is not a criminal gang. Thailand does not recognize the FARC as a terrorist group." Despite this "setback", the United States was clearly not prepared to give up. Washington applied a full court press on Bangkok to ensure that the "Merchant of Death," as the Western media has dubbed Viktor Bout, did not slip away from their grasp."The Obama administration and several members of Congress have lobbied Thailand to send Mr. Bout…to the US to face charges for allegedly using his air-transport business to supply weapons to conflict zones," The Wall Street Journal reported (August 21, 2010). The article also acknowledged that "Washington…summoned Thailand's ambassador to the US to inform him of US concerns that Mr. Bout could be freed."Meanwhile, it has been revealed that Californian Republican Rep. Ed Royce was among a group of American lawmakers who had sent a letter to the Thai government warning that US relations with Thailand could suffer if Viktor Bout is freed.Finally, almost at the same time that the Thai Appeals Court was convening, the United States heaped more charges against the Russian citizen, accusing him of wire fraud and money laundering. In fact, the US authorities almost shot themselves in the foot with this strategy, since the Thai court was delayed by the new charges, thus threatening to push the deliberations beyond the three-month deadline."The United States has apprised Thai authorities of the new charges against Bout … and will continue to work closely with them on this matter," the US Justice Department said in a statement that many have pointed to as a blatant conflict of interest.After the ruling, Viktor Bout's wife Alla reiterated the opinion of the Russian Foreign Ministry that the decision by the Thai court was politically motivated."There was huge pressure from the American side. Because the American side… openly stated to the whole world…that they will put pressure on the Thai justice system in order to extradite my husband to the US," she said.The Thai Appeals Court ordered Bout's extradition to the United States within three months, otherwise he would be "awarded his freedom.""No chance of a fair trial"Viktor Bout, thanks in no small part to America's powerful entertainment industry, has acquired a reputation as one of the world's most prolific arms dealers. Indeed, his life and times is said to have been the inspiration behind the Hollywood film "Lord of War," which starred Nicolas Cage.In the book "Merchant of Death," written by Dougles Farah and Stephen Braun, Bout was unjustly accused of sitting "atop an immense and complex empire: a relentless international war machine able to deliver anything from AK-47s and missile launchers to artillery and attack helicopters…"Now compare those inflated charges with comments made by Brian Johnson-Thomas, former UN arms inspector, in an interview with RT."Viktor ran quite a large airline operation in Africa," Johnson-Thomas acknowledged. "And I would think that 95 per cent of his flights [consisted of] normal commercial goods. So we're talking about maybe five per cent of the cargoes possibly being arms. But flying arms is not in itself illegal."This brings up the daunting question as to how Viktor Bout can be expected to receive a fair trial in a country that was already crafting films over his perceived persona long before he had received a fair trial. Indeed, there is not a place in the United States where the name Viktor Bout has not been dragged through the mud. "You have to be a Houdini, a magician multiplied by factor of ten million to actually have a fair trial, a fair shake," Daniel Estulin, the investigative journalist who is working on a book about the "conspiracy" against Viktor Bout, told RT in an interview. "It's not about the truth; it's about getting a guy, a patsy, to go to prison, so America could feel safe and feel good about themselves, about being the beacon of truth and hope. And that's what it is all about."Most disturbingly, however, is the way the United States has treated alleged "terrorists" or those thought to be aiding and abetting them in the past. Indeed, the prospect of being forced to appear before a secret US military tribunal could be the next chapter in the life of alleged arms dealer Viktor Bout.And if that worst-case scenario comes to pass, the truth will remain just another topic for Hollywood audiences to ponder while eating their popcorn.
Robert Bridge, RT