Will domestic disturbances and drugs crash US-Uzbek honeymoon?
Published time: 4 Jul, 2012 16:02
Edited time: 4 Jul, 2012 20:09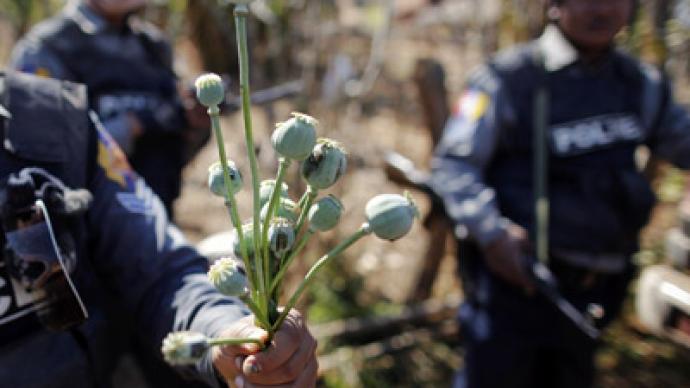 Tashkent's announcement that it will suspend membership in the Collective Security Treaty Organization (CSTO) may be a sign Uzbekistan is again returning to the Western fold. But will the fight against heroin and possible social upheaval wreck the plans?
Uzbek President Islam Karimov certainly enjoys surprises. In 1999, the Uzbek strongman pulled his country out of the CSTO; in late 2001, he rented the Karshi-Khanabad Airbase to the United States, which was then preparing a military offensive in Afghanistan; in 2005, following a government crackdown in Andijan, which attracted heavy criticism from NATO members, Karimov terminated America's contract and brought Uzbekistan back into the CSTO.

Last week, Karimov again lived up to his reputation for being unpredictable, suspending Uzbekistan's membership in the CSTO. Lt. Gen. Leonid Sazhin, a military expert, believes the move could be a sign that Tashkent is looking to strengthen ties with the United States and NATO.
"This certainly facilitates the U.S. and NATO's stronger presence, primarily military presence, in the Central Asian region,"
Sazhin said in an interview with Interfax-AVN.
"It is no secret that, while the U.S. plans to leave Afghanistan in 2014, it would like to preserve a military presence in Afghanistan and other countries of the region, however minor it might be."
Washington is exploring options as to how to stay in Central Asia, he added.

Sazhin, who knew the Uzbek President when serving for the Soviets and then with the Russian General Staff, said Karimov regularly vacillates between Moscow and Washington, playing the two off each other for personal gain.

"Islam Karimov, as an Oriental ruler, is hardly a predictable man, who is constantly maneuvering between Washington and Moscow for a greater advantage," the military analyst told Interfax-AVN.

But other NATO countries, primarily Germany, are also part of Tashkent's maneuvering, he said.

"By deciding to suspend its CSTO membership, Tashkent signalled its readiness (to the West) to take into account its interests, including the continuation or resumption of the rent of the airbases in Termez near the border with Afghanistan and in Karshi-Khanabad," he said.

In 2002, Germany rented the Termez airbase, which became a crucial hub for the International Security Assistance Force's work in Afghanistan.

According to Sazhin, Karimov's latest decision was dictated by domestic political considerations.

"In violation of constitutional limitations, Karimov was re-elected President for a third seven-year term in 2007," the military analyst observed.

"The next presidential elections in Uzbekistan are planned for 2015, and there are a lot of social and economic problems in the country that remain either unsolved or are solved poorly."

This causes discontent among ordinary people and influential families alike, he said, suggesting that the Uzbek leader is looking to strengthen his domestic position – not to mention the security of his bank holdings – in the likelihood of future mass disturbances.

"Uzbekistan is obviously facing a change of government, and so the Uzbek leader, who does not want the fate of [ex-Kyrgyz President] Askar Akayev and his successor Kurmanbek Bakiyev, has decided to play into the West's hands in exchange for its support in the future, when the time is hard for him," Sazhin observed. "It is well-known that Karimov's children and grandchildren studied in prestigious colleges in the U.S. and West Europe and that his family keeps millions at American and Swiss banks."

In order not to press his luck in case he has to cede power, the Uzbek leader has decided to befriend the West again, he added.
In addition to the possibility of a political upheaval, Tashkent must face the prospect of increased heroin trafficking from Afghanistan, specifically in the Fergana Valley (the Fergana Valley comprises 22,000 square meters (8,494 sq mi) spreading across eastern Uzbekistan, Kyrgyzstan and Tajikistan).

According to Viktor Ivanov, the head of the Federal Drug Control Service, this threat presents a huge challenge to Uzbekistan.

"The key to this problem is the Fergana Valley, where the borders of three countries join – Kyrgyzstan, Tajikistan and Uzbekistan," Ivanov told reporters in Moscow on Tuesday. "It is the Fergana Valley that Afghan heroin is smuggled through most intensely. Suppliers are concentrated in this region. There is a tough competition among them, which turns into armed clashes."

In Afghanistan, a kilogram of heroin costs $1,000; the price in the neighboring Tajikistan reaches $3,000-$5,000; and in the Fergana Valley, it goes up to $15,000-$20,000, he added.

"The key to solving the problem is in Central Asia, with which we have worked both bilaterally and through the CSTO," Ivanov said.

Given the heavy issues on Karimov's plate, Uzbekistan may always review its decision to suspend CSTO membership.

"We remember the sudden shift in 2005 after the well-known events in Andijan, when Uzbekistan turned to Moscow again," Russia's anti-drug official concluded.