United Russia party should change itself – Russian president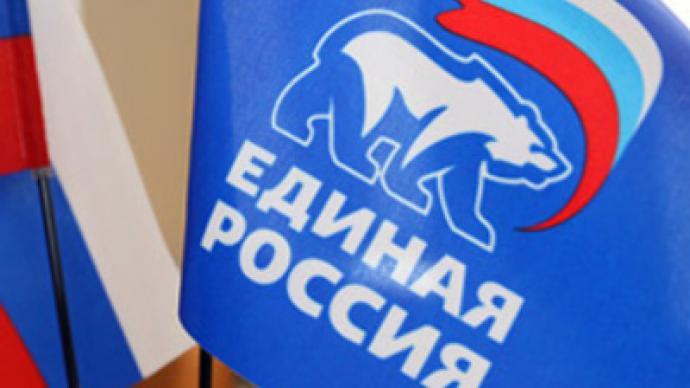 Russia's President Dmitry Medvedev and Prime Minister Vladimir Putin delivered speeches on Saturday at a congress of the pro-Kremlin United Russia party, which took place in St Petersburg.
The party can achieve changes for the better only if changes itself, according to the president. The delegates seem to have agreed and introduced changes to its charter, forcing party members to be more active and competitive in the political arena. According to the adopted amendments, from now on they will have to take part in election debates and hold primaries.
For comments on the latest developments in the congress, RT turned to party members and congress delegates Vladimir Gruzdev and Svetlana Orlova.
Vladimir Gruzdev, State Duma deputy, United Russia party
"Well, it's normal when such a large political organization as United Russia, which has over 2 million members in its ranks, faces criticism sometimes. Indeed, there are issues on which we could make decisions faster and be more aggressive altogether.
"We have had a very tough, post-crisis year, and the year to come sets many challenges related to the development of the state, the economy, and social sphere, and to modernization of the party itself. United Russia is a young party. It is only few years old; its creation was a rapid process, so the party should be the driving force behind all things new, such as economic innovations, which our country needs badly. The tasks set by the country's leaders – the President and the Prime Minister – must be implemented, and since the bureaucratic system is rather unwieldy, the responsibility for addressing those tasks rests upon United Russia.
"'Russian conservatism' (which was announced at the Congress as the party's official ideology by one of its leaders, Boris Gryzlov – ed.) is first of all about succession of power, both on the top level and on regional and local levels as well. It is vital that tasks currently addressed by existing authorities are not given up in four or five years, but accomplished, and their results presented to the public.
There is no contradiction at all [between the Russian Conservatism ideology and the rather liberal Presidential Address to the Federation Council]. It is quite natural that we need even more liberalism and less government control in the economy, while in politics and the social sphere, we need to retain what good we have achieved so far and to multiply that.
"What is really vital today, is domestic demand. Consumption is what allows our economy to rise. If you look at the Chinese economy, for instance, you will see that domestic consumption helps them show some 7 per cent growth, even in times of crisis. The efforts that have been made to stimulate domestic demand in Russia have brought little results so far, but we must carry them on in the next year."
Svetlana Orlova, Federation Council Deputy Speaker, United Russia party
"I absolutely agree with the president that there is a need for a discussion in the party. We have one and we support it. The next thing is that we are an open party and we are not afraid of taking upon ourselves what needs to be taken, unlike other parties. If we undertook to address a problem, we'd handle it and we'd see it through legislatively by fixing it either in the budget law or in the tax laws.
The party will be improved along all vectors, and both Mr. Putin and I said as much. He was very tough on bureaucracy. Not accidentally, he said that all the war veterans should be given flats, but they will be made to have to face the red tape at all echelons. The party will undertake to solve the problem for them. A party member will be assigned to each war veteran and he or she will deal with the authorities.
What concerns the economy: let's take the party's projects, such as Pure Water. We didn't have anything like this for ages. Incidentally, pure water increases life expectancy by 5-7 years, plus 22 branches of industry that will be turning out the needed equipment, plus the eradication of many diseases caused by sub-quality water, plus a chance to make the domestic pharmaceutical industry produce quality drugs. This is why Mr. Putin's report was a very open one and sufficiently self-critical.
But the most important thing is that both the President and the Prime Minister fearlessly spoke about the defects we have, and we are not hiding them from the world. However, the fact is that we have withstood the strength test and accepted, together with the President, the Prime Minister, and the United Russia Party, the anti-crisis measures that helped hundreds of families to receive the family assistance funding, which helped to launch Accessible Housing Project, etc."
You can share this story on social media: