Medvedev urges introduction of simpler taxation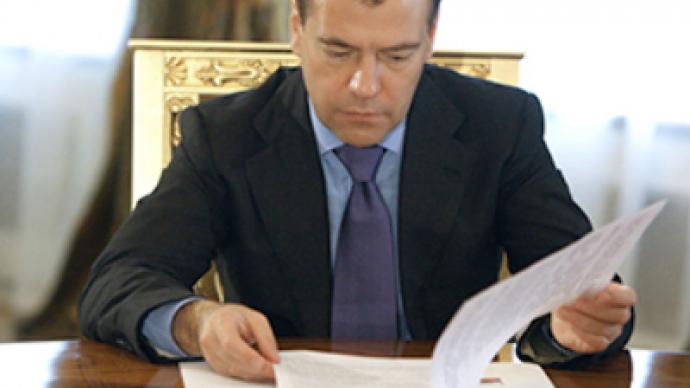 President Dmitry Medvedev, following his meeting with the ruling United Russia party, has signed a list of instructions, including the development of a simplified taxation system.
The proposals on the matter should be prepared by the Ministries of Finance and of Economic Development by August 1, the Kremlin website reports.
In particular, the heads of the ministries and presidential aide Arkady Dvorkovich should, "Submit proposals on the development of a simplified taxation system on the basis of a license, including the expansion of the list of types of entrepreneurial activities, in respect to which the given tax regime can be applied," the site states.
In addition, Finance Minister Aleksey Kudrin should "Consider expanding the list of expenses taken for the purposes of calculating tax on profits and on the simplification of their accounting." Proposals should be ready in less than a month, by July 1.
Among other instructions that came up as a result Medvedev's meeting with the United Russia on May 28 are those connected with changes of the sanitary-hygienic norms for preschool institutions. And, also the president instructed respective departments to make proposals on the development of physical education for schools and other educational organizations.
All the moves are designed to serve the purpose of the modernization of the country, which the president has been pushing for since the beginning of his tenure. Speaking at the meeting with representatives of the majority party on May 28, Dmitry Medvedev said that the modernization will be a success, "it must be carried out quickly and qualitatively, making it attractive for people and business."

You can share this story on social media: