Popular Front boosts United Russia's Ratings
Published time: 24 Jun, 2011 12:17
Edited time: 24 Jun, 2011 18:04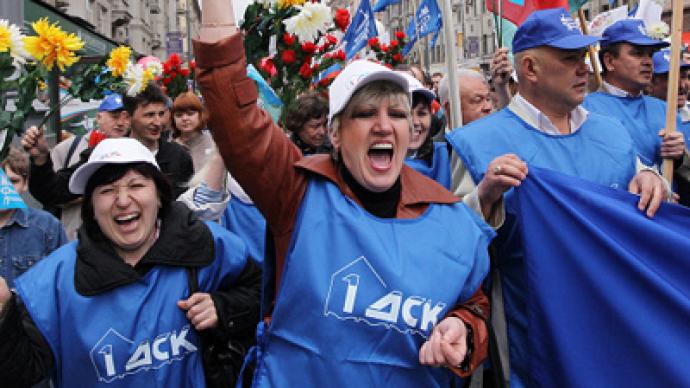 The United Russia party has reported that its base of supporters has been growing as more people said they would vote for it and the recently founded Popular Front movement at the forthcoming elections.
"The level of trust placed in United Russia by the country's residents has increased by two points over the past two weeks and the total growth since the beginning of June amounts to a five percent bump, increasing the total share of those ready to vote for United Russia to 49 percent of those polled," the secretary of United Russia's presidium, Sergei Neverov, told reporters on Friday, quoting the results of a poll conducted by the VTSIOM public opinion center.

The party official suggested that the increase in public trust for United Russia demonstrated a trend connected with the establishment of the preliminary popular vote for candidates who will run in the December parliamentary elections. The primaries have been recently announced by Prime Ministrer Vladimir Putin, who is also the leader of both United Russia and the Popular Front.

Putin's latest initiative was the creation of the Popular Front movement with the recommendation that its members could run for the lower house on the United Russian ticket, even though they are not actually party members. Popular Front members will be chosen and confirmed by United Russia, though people still need to apply to join the organization.
United Russia also suggested that Popular Front members be allowed to take up various positions in municipal legislative bodies if they collect enough votes.

The process of forming the Popular Front is currently under way, as it has been announced that the organization would accept people, public organizations and even companies as its members.

Neverov told reporters that a lot of new leaders and prominent personalities had already expressed their desire to join the Popular Front and this was the main reason behind the growing popularity for both the movement and United Russia.
The Communist Party of the Russian Federation, United Russia's traditional and harshest critic, said on Friday that it possessed contravening information on United Russia's popularity. First deputy chairman of the Central Committee of the Communist Party, Ivan Melnikov, said that United Russia's real rating did not exceed 35 percent. The politician noted that the growth in popularity of the ruling party is very unlikely when prices and tariffs in the country continue to go up.

The communist leader also said that many of those who apply for Popular Front membership do so under pressure from local officials, who are mostly United Russia members. He added that such demands only fueled the people's discontent. "We are listening to reports from the Communist Party's regional branches on the forthcoming elections and they all say that United Russia's demand for the people to join this front only increase public discontent," Melnikov said.