Putin's Popular Front goes online
Published time: 10 Jun, 2011 14:56
Edited time: 10 Jun, 2011 19:07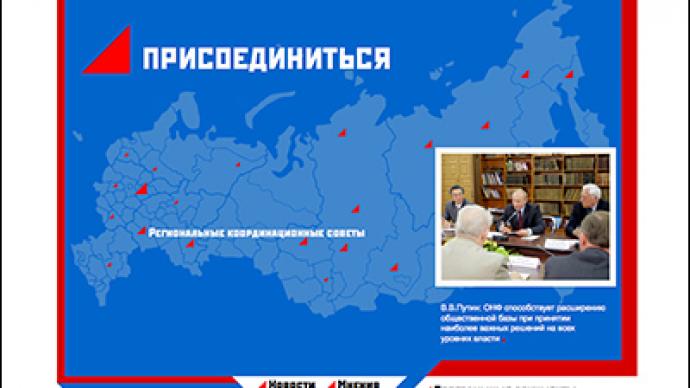 The All-Russia Popular Front being formed around United Russia will attract new participants with its own website.
­Until Friday, the new organization, set up on the initiative of Vladimir Putin, was only represented online on a page of the prime minister's website.

The front's own website presents the list of organizations that already joined it and the members of the coordination council, as well as news. Users may also learn basic principles on which the front is based and even choose a logo from four variants.

The website's address was registered on May 7. Putin announced his plan to set up a new public organization a day earlier at a conference of the ruling United Russia party in Volgograd. The prime minister, who heads the party, believes the front will make it possible to find new faces and new ideas that can be presented in the next Russian parliament. The elections to the State Duma will be held in December.

Activists of different public organizations may join the front and take part in elections as candidates for parliament on United Russia's list without being members of the party. The front's website contains Putin's quote: "The All-Russia Popular Front enables broadening public base during the process of taking the most important decisions at all levels of power."   

Both organizations and individuals can join the front. On Friday, Putin's press secretary Dmitry Peskov said enterprises would also be able to join the new organization. This decision has been taken by the prime minister, Peskov said, after Putin started to get requests from employees of enterprises who want to join collectively.

Those interested in joining the Popular Front should share United Russia's program, but are welcome to float their own ideas. The coordination council has pledged to develop the front's own program, taking into account proposals from people in the regions.

Following Putin's initiative, two opposition parties represented in the parliament – the Communists and Fair Russia – also announced plans to set up their own organizations similar to the Popular Front.