UN resolution would have brought no peace to Syria – Medvedev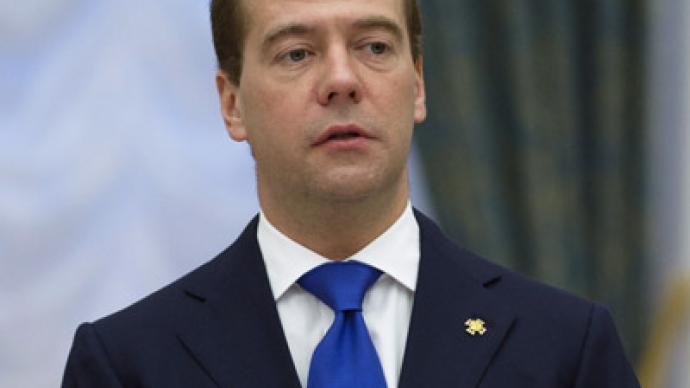 President Medvedev has clarified the reasons behind Moscow's veto on the UN resolution on Syria for the prime minister of Turkey, Recep Tayyip Erdogan.
Before calling Dmitry Medvedev on Wednesday, Erdogan promised to launch "a new initiative" with countries "standing by the Syrian people, not the Syrian government." The Turkish PM, along with other world leaders, was bitterly disappointed at Moscow and Beijing blocking the UN action on Syria on Saturday.Talking to Erdogan, Medvedev stressed the need to continue to search for ways out of the crisis, including in the UN Security Council. Noting Turkey's leading role in the region, Medvedev insisted the crisis in Syria should be settled by the Syrian people themselves, without any foreign interference. "The UN document would not have facilitated resolving the crisis in a peaceful way," Medvedev said. "An objective, balanced" document is required for Syria, to tell both the Syrian regime and the opposition to end the bloodshed, he added.The two leaders have agreed to coordinate their efforts to resolve the Syrian crisis.Also on Wednesday, Dmitry Medvedev held telephone talks with his French counterpart Nicholas Sarkozy, the Russian President's press service reported. The conversation was initiated by the French side, the press service said. Medvedev called upon his foreign partners to abstain from hurried decisions and stressed that the international community's position must be "objective and balanced". Medvedev also informed Sarkozy on the results of negotiations that Russian Foreign Minister Sergey Lavrov and the head of Foreign Intelligence Service Mikhail Fradkov held this week with Syrian President Bashar Assad and stressed that the Russian side would continue its efforts to solve the crisis in Syria in a peaceful way.Russia has shrugged off the wave of international anger at its vetoing a UN resolution on Syria on February 4. Russian foreign minister Sergey Lavrov called the Western reaction "hysterical," saying Moscow cannot afford a one-sided approach to the Syrian crisis, which disregards the violent role of the Syrian opposition.
Read related column by Sergey Strokan here
You can share this story on social media: