Topless players challenge Lukashenko on Swiss ice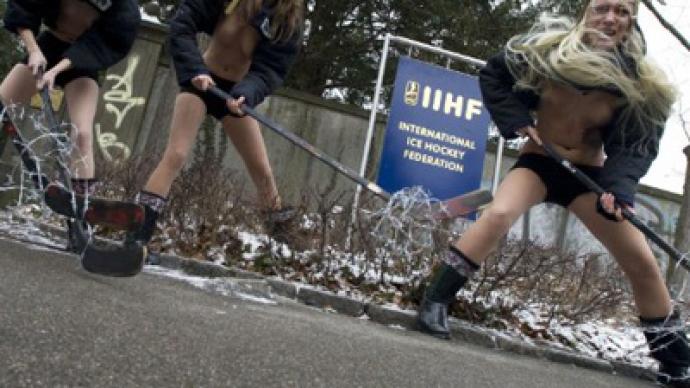 The Ukrainian feminist group Femen have organized a topless hockey game near IIHF headquarters in Switzerland to protest at a decision to hold the 2014 World Championship in Belarus which they say does not uphold democracy and human rights.
The protest took place near the main office of the International Ice Hockey Federation in Zurich. Braving a severe frost, the protesters started a hockey game in the street wearing unbuttoned coats with nothing on underneath. Their demands, spelt out on banners, read: "Do not encourage dictatorship!" "Lukashenko, let's play in Hague!" and "Slaves can't play hockey!"
The feminists also issued a statement calling on sports officials "not to give rejuvenating injections to the rotten and dying body of Lukashenko's regime." They said that "The dictatorship is ruling Belarus by suppressing its own Constitution and fundamental human rights, suppressing all dissident attempts with torture and blood."
Femen also reminded the IIHF that top officials of the Republic of Belarus had been banned from entering the European Union and the United States following a series of human rights violations and complaints from pro-democracy NGOs and Lukashenko's opponents.
FEMEN said several of its activists had been abducted and tortured by Belarus' State Security Committee in December after staging a protest in Minsk.
Last month, the International Ice Hockey Federation said it supported the idea of holding the World Championship 2014 in Belarus, thus distancing itself from politics. A number of EU and US politicians have asked the IIHF to change its decision.
You can share this story on social media: