First FEMEN images after alleged KGB torture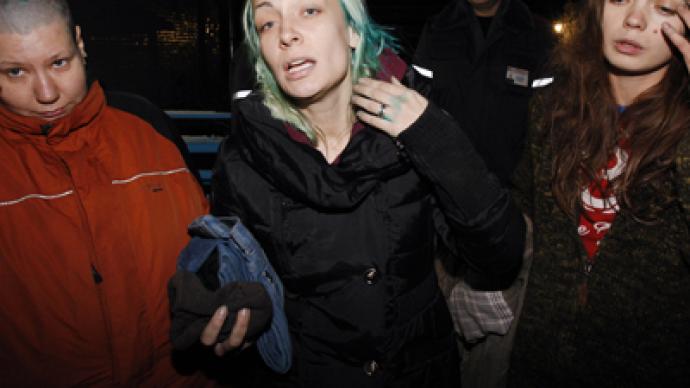 Ukraine's topless FEMEN protesters have arrived home safely after allegedly being kidnapped by the Belarusian KGB, taken to the woods, stripped and left alone with no clothes or money. The KGB denies the accusations.
Aleksandr Dikusarov, the Ukrainian Foreign Ministry's spokesperson, told RIA Novosti that the FEMEN activists had returned home on Wednesday morning escorted by the country's consul. Inna Shevchenko, Oksana Shachko and Aleksandra Nemchinova disappeared on Monday evening after they were detained and then released by Belarusian police.  They said they were kidnapped by six men six hours after being released from the police station. The men did not identify themselves, but the activists claim they were members of country's secret service.The news broke on the FEMEN movement's Livejournal page, where a statement was published shortly after the activists were found. The first to contact the outside world was Inna Shevchenko, who told her colleagues that they had been abducted by Belarusian special services. The women were blindfolded and thrown into a bus. After being driven around all night long, they stopped in the middle of the woods where the kidnappers cut their hair with knives, forced them to strip and made them hold posters showing a swastika. Inna says the men soaked them in oil and threatened to set them on fire. The activists filmed the entire proceedings on a camcorder.FEMEN activists claim that when the men had had enough, they drove away, leaving the women naked in the woods with no money or means of communication. They wandered in the forest for a while before arriving at a small village where they found shelter and a phone.Throughout Tuesday, with the activists missing for almost 24 hours, representatives of the Belarusian authorities refused to comment on the situation. However on Wednesday, the head of the KGB, Vadim Zaitsev, finally saw fit to comment on the incident, stating that he considered the disappearance of FEMEN activists a provocation, Interfax reports."A gross provocation is developing. We'll see in the near future who is behind it,"  Zaitsev said on Wednesday at a press conference in Minsk. "They can say whatever they want," said Zaitsev, referring to FEMEN's allegations against the KGB. "Our people did not touch them!" The activists disappeared on Monday, December 19 in the Belarusian capital, Minsk, after protesting in front of the KGB building against the country's long-ruling president, Aleksandr Lukashenko. December 19 is the anniversary of an unauthorized opposition rally that took place in Minsk in 2010 following presidential elections which was brutally dispersed by police, with many protesters beaten up and arrested.The FEMEN movement is notorious for politically-motivated naked protests held at home in Ukraine and in countries throughout Europe, including Vatican City. One of their latest actions was held in the Russian capital, Moscow, in front of the Cathedral of Christ the Savior.
You can share this story on social media: