Ukrainian nationalists bring nuclear arms to election fight
Published time: 6 Sep, 2012 11:01
Edited time: 6 Sep, 2012 15:24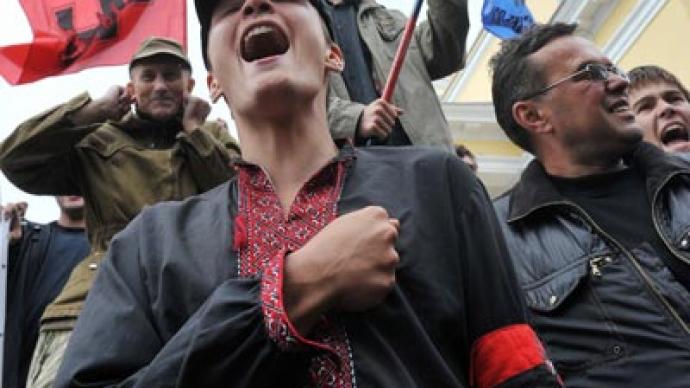 The Ukrainian nationalist party UNA-UNSO, known for sending armed volunteers to fight on the post-Soviet space, has announced in its elections program that Ukraine needs nuclear weapons.
"In order to do something we need leverage as a state. We need to demand the restoration of the nuclear status of our country," said Valery Bobrovich, chief of the headquarters of the Ukrainian Nationalist Assembly – Ukrainian People's Self-Defense. The politician added that Ukraine has no future without nuclear weapons.
In addition, a return to nuclear status would boost the Ukrainian economy, Bobrovich said.
"The military industrial complex is not just cannons, but also tens of thousands of jobs," he told reporters.
At the time of the Soviet Union's collapse, Ukraine possessed the third-largest nuclear arsenal in the world. However, Ukraine gave up its nuclear arsenal in exchange for recognition of its independence and security guarantees by leading nuclear powers.
The agreement was sealed in 1994 in the Budapest Memorandum and the removal of nuclear weapons from Ukrainian territory was fully completed in 1996 (the warheads were sent to Russia, where they were dismantled and reutilized).
The UNA-UNSO ultranationalist party was founded in 1990 by Yury Shukhevich, son of Ukrainian nationalist Roman Shukhevich, who fought in the Nazi commando battalion Nachtigall during WWII, and was killed by Soviet security services in 1950.
From the outset the party stressed aggressive nationalism and the importance of armed fighting for independence. As political conflicts on the post-Soviet space developed in a series of local wars, UNA-UNSO began sending volunteers to fight in them. (Ukraine itself has managed to avoid any armed conflicts since the breakup of the Soviet Union)
Ukrainian nationalists fought against Russian troops in Chechnya and, according to Russian investigators, in the 2008 war in South Ossetia.
This August UNA-UNSO announced its intention to participate in October's parliamentary elections in Ukraine. The party put forward 172 candidates on its party list, topped by Yury Shukhevich himself, and also five candidates in independent constituencies.
The party opposes Ukraine's integration into Europe and potential entry into NATO, claiming the country must have its own way of development.
Before the start of the elections campaign the nationalists announced the "total Ukrainian mobilization" program that included recruiting citizens aged 16-50 for training in military camps. The program was announced after Shukhevich accused Ukrainian authorities of giving up the country's territories, strangling the national language and betraying the military forces.