Ukrainian nationalists behind Waffen SS ads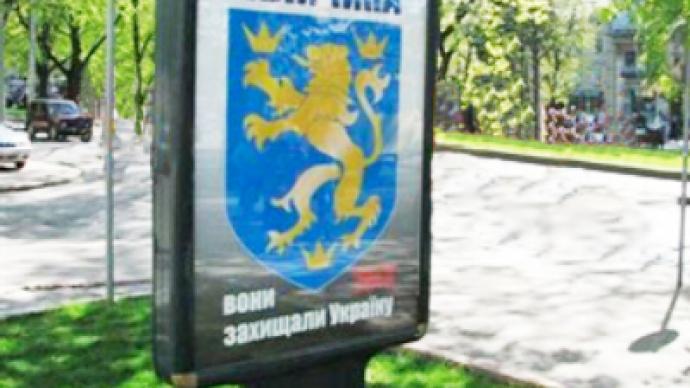 Ukrainian posters featuring the insignia of the Waffen SS Division 'Galicia,' which fought alongside the Nazis during World War II, have sparked an international scandal.
The posters, bearing the military unit's coat-of-arms and the words "They fought for Ukraine," appeared in the Western Ukrainian city of Lvov last week. The move sparked much criticism from the local Russian-speaking minority, as well as from Russian and Polish officials.
The contractor who ordered the ads was not revealed until Tuesday, when the nationalist party "Freedom" claimed they did it to mark the division's 66th anniversary. The leader of the party's branch in Lvov, Ivan Grinda said they were part of the project promoting the "highest spiritual values."
"Division members fought for Ukraine against the Bolsheviks," he is quoted by the Ukrainin newspaper 'Segonya.'
"Galicia's formal existence as part of the Nazi troops does not undermine its significance for Ukraine. Lies are told about the division for political benefit," he claimed.
The division, which consisted of Ukrainian volunteers under German officers' command, was involved in murders of Polish nationals in Ukraine, and took part in the hunt for Soviet and Polish partisans.
After it was decimated by advancing Soviet troops in the battle of Brody, Galicia was reformed, and used to suppress anti-Nazi uprisings in Slovakia, and to fight Yugoslav partisans in Slovenia.
You can share this story on social media: