Ukraine to demolish Soviet WW2 memorial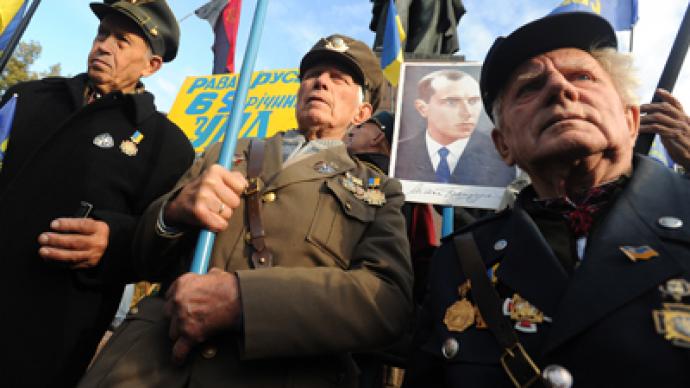 Authorities in the western Ukrainian city of Turka have decided to dismantle a WWII monument, relocating a mass grave where 43 Soviet soldiers are buried.
Explaining the initiative, the city council said it is planning to "streamline" Turka's central square. The decision was supported by 24 out of 30 local legislators, with only one deputy voting against the idea. The Ukrainian WWII Veterans' organization is going to appeal the decision at the Prosecutor General's office."Living in the country and spitting at its history is, at the very least, a display of disrespect towards one's fathers and grandfathers," the body's chair, Communist MP Pyotr Tsybenko told RIA Novosti. According to deputy chairman of the Antifascist Committee of Ukraine Alexander Kalynyuk, the Turka council's decision violates the law on the Immortalization of the Victory in the Great Patriotic War of 1941—1945."Ukrainian nationalists strongly criticize the elimination of monuments to [members of the Ukrainian Insurgent Army] in Ukraine or neighboring Poland," he said, as cited by Itar-Tass. Whenever that happens, "they immediately recall the 1949 Geneva Convention," which obliges states not to allow any violation of soldiers' graves. In 2008, authorities in Komarno – another town in Western Ukraine's Lvov (Lviv) region – decided to relocate a Soviet soldiers' grave from a park to the cemetery, and demolished the monument erected above the burial place.
You can share this story on social media: