Senior Duma deputy warns Ukraine of 'semicolonial dependence' behind EU deal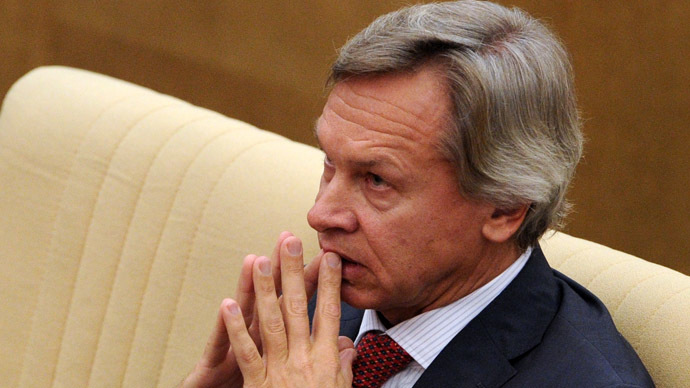 Signing an association agreement with the European Union would deprive Ukraine of the opportunity to cooperate with the Russia-led economic bloc Customs Union, said the head of the Lower House Foreign Affairs Committee.
"This agreement is naturally contradicting the perspective of Ukraine's participation in the Customs Union because there are paragraphs in the association agreement that practically rule out the possibility for Ukraine to cooperate with the Customs Union member countries," Aleksey Pushkov said at the Friday session of the Russian Lower House.
The Customs Union is a free trade organization started in 2010. It currently Unites Russia, Belarus and Kazakhstan, but there are plans to include more countries that once were parts of the former Soviet Union.
Pushkov was presenting the draft resolution made in reply to the European Parliament's statement that had accused Russia of applying pressure on a number of countries, including Ukraine, over their plans to broaden cooperation with the European Union.
The Russian MP said the Ukraine-EU agreement would create a single-sided dependence of Ukraine on the EU as Ukraine will not be able to influence the development of EU directives, but would nevertheless automatically accept them as obligations.
"No one offers Ukraine to become a EU member, it is an attempt to tie this country to the European Union for a small price and with little effort, to make this country into an economic appendix. Ukraine is going to lose very seriously from these agreements," Pushkov explained.
"We are practically talking here about establishing a semi-colonial dependence," the parliamentarian emphasized.
A day earlier Russian President Vladimir Putin spoke at the Valdai Club international political forum and said Moscow would have to protect its markets in case Ukraine enters an association agreement with the EU. The Russian leader also said that Ukraine's membership of the Customs Union would give Kiev better leverage in its talks with Europe.
Earlier this week the Ukrainian government approved the draft association agreement with the EU which is expected to be formally signed at the EU Summit in Lithuania in November.

You can share this story on social media: