Yanukovich pledges "democratic constitutional transit"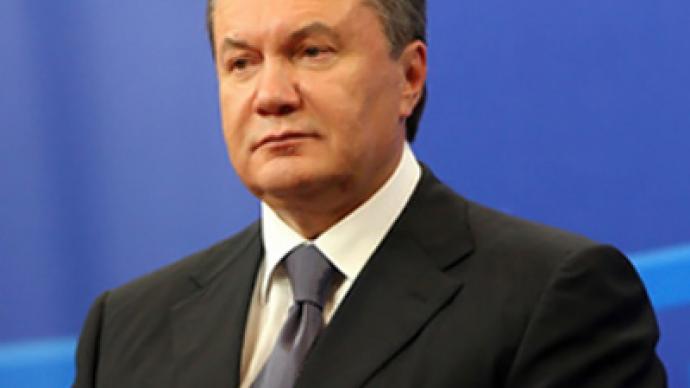 Ukrainian President Viktor Yanukovich is promising to lead the country "along the path of legitimate solutions" following the Constitutional Court's decision to overturn the 2004 political reform.
On Friday, the court cancelled the 2004 constitutional amendments that restricted presidential powers and turned the country into a parliamentary-presidential republic.
Now the country has returned to the presidential-parliamentary republic, observers say. Speaking in Yalta on Friday, Yanukovich said that "Ukraine was and remains part of the common European democratic space." The country's leadership "will move along the path of a broader social dialogue and legitimate solutions," Itar-Tass quoted him as saying.
The country's "further constitutional transit" will be linked only with stronger democracy and local self-government, Yanukovich said. He also promised that human rights and freedoms would be guaranteed.
The court said the 2004 constitutional reform was adopted with procedural breaches and thus was illegal. Many blamed those amendments for a long period of political instability in the country.
As Ukraine is now returning to the 1996 constitution, Yanukovich will be able to appoint or sack the prime minister, governors and ministers responsible for law enforcement agencies without parliamentary approval.
"Ukrainian politics has traditionally shown flexibility," said Aleksandr Shatilov, deputy director of Russia's Center for Political Conjuncture. "Among other things, the constitution has been many times amended to please political ambitions and particular balances of power."
On the one hand, in the conditions of political instability, this helped to remove direct conflicts and solve them using legal methods, the analyst told Actualcomment.ru. This practice "fixed certain realities that existed at a particular moment," he added.
"But as Yanukovich won the presidential elections, he has strengthened his position to a certain extent, and the realities of 2004 ceased to be topical now," Shatilov noted. So, the president's team had decided to abandon "the principles of that coalition reform."
The Constitutional Court's decision has reflected the current realities, the analyst believes. Now Yanukovich and his team are conducting policies "according to their priorities and interests," he said.
However, if the president or representatives of his team lose power at some point, "the constitution will not be a sacred cow then either, and new victors will be able to complete the picture," Shatilov assumed.
Sergey Borisov, RT
You can share this story on social media: