UK drops a blonde, Russia warns of "witch hunt"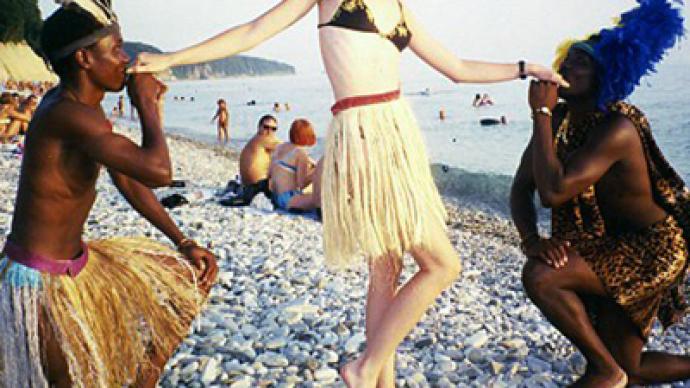 Ekaterina Zatuliveter, who was employed in the offices of a British parliamentarian, has been accused of "honeytrapping" and spying and now faces deportation.
British media was ablaze on Monday morning with racy photos and suggestive headlines following claims by the UK intelligence agency (MI5) that Ekaterina Zatuliveter was working as a "sleeper" spy for Russian intelligence in the offices of Mike Hancock, a Liberal Democrat member of the House of Commons.An intelligence source was quoted by the UK Daily Mirror as saying: "Her presence here is not considered conducive to national security. There was unhappiness about what she could have access to."According to The Sunday Times, the UK Home Secretary has approved the deportation of Zatuliveter following a briefing of her alleged activities. Ms. Zatuliveter is said to be appealing the charges.Was Hancock caught in a "honeytrap"?Mike Hancock, in addition to being a member of the House of Commons Defense Select Committee, also serves as the vice chair of the All-Party parliamentarian group on Russia, which occasionally meets to discuss British policy towards Russia. Thus, given Mr. Hancock's portfolio, it may seem entirely natural to some observers that a Russian national would be employed in his office.Hancock defended his assistant in an interview with the Daily Mail, saying Zatuliveter was given a rigorous security check before being given employment."Katia [Zatuliveter] came with references and was the best person for the job," the British MP said. "She was security checked and it took about two months for her House of Commons pass to come through. I have employed an American girl before and her dad was a Congressman. Her pass took the same amount of time to come through."Hancock, who has been branded a "womanizer" in the British tabloids, added that although there "could be Russian spies in Parliament…I don't know of any.""You'd have to ask MI5 for details," he suggested.The British lawmaker admitted that Zatuliveter had access to papers, but none of the documents were of a sensitive nature that could compromise national security.Hancock, 65, reportedly met Ekaterina Zatuliveter in Strasbourg where he was attending a Council of Europe meeting. He is said to have given her a job as an assistant after she was vetted by UK security services. She started work for Hancock in 2008.According to British media, Zatuliveter, who is said to be from Dagestan, worked at the Commons as an intern after studying for a master's degree at Bradford University. She was also a researcher for the UK Defense Forum from 2008 to 2009.Meanwhile, back in Moscow, where patience is wearing thin over such allegations, a Russian legislator slammed the UK charges as the latest in an ongoing "witch hunt" against Russians working abroad. A "witch hunt" is brewing"This is becoming a bad joke," the parliamentarian, who sits in the lower house of the Russian Duma, said on the condition of anonymity. "It seems that every hard-working Russian who decides to pursue a career abroad is being branded as a potential spy. This sets a very bad precedent for Russia's bilateral relations with some countries."Indeed, the British media practically makes Zatuliveter's wardrobe the incriminating factor in this latest spy caper.The Sunday Times quotes a Westminster source as saying: "She would walk around in very short skirts and high heels with Hancock and they would be seen having lunch together. Certainly some thought she was charming and intelligent." Although the lawmaker did not openly make the comparison, this latest "spy" sensation drags to the surface memories of Anna "femme fatale" Chapman, who, together with nine other lesser-known individuals, was arrested in June over similarly dubious charges. The group was eventually deported in a sensational prisoner swap between Russia and the United States. No concrete details of Chapman's alleged spying activities were ever released, yet the most significant charge against her and her colleagues was a "failure to register as an agent of a foreign government."  The Russian embassy in the UK told Itar-Tass on Sunday they had not received any information from the British authorities concerning the charges leveled against Ekaterina Zatuliveter.Russia's Foreign Intelligence Service has refused to comment on the arrest."No comment," responded spokesman Sergey Ivanov when asked about the arrest.
Robert Bridge, RT