Twitter turns into an instrument for political battle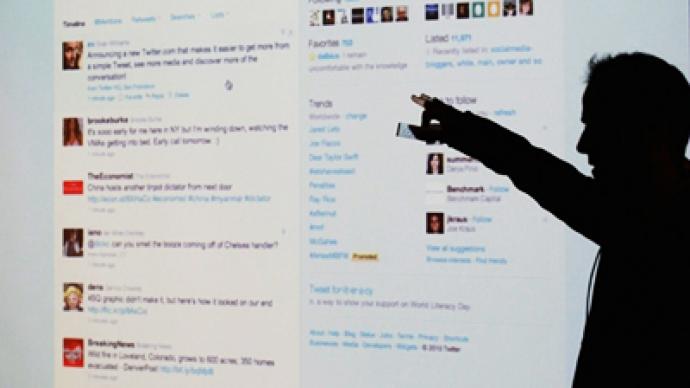 Russian prosecutors have found no violations of the law by a deputy-governor of the Primorsky Region, member of the ruling United Russia party Aleskandr Shemelev, who made abusive comments about the opposition on Twitter.
However, the regional Prosecutor's Office have recommended to the governor of the federal subject in the Far East of the country – Sergey Darkin – to consider adopting a legislation on general principles of ethics and officials' behavior. Back in March this year, local MP, Communist Pavel Ashimikhin appealed to Darkin and Prosecutor Yury Khokhlov demanding a disciplinary penalty for Shemelev, 35, over insulting posts on his Twitter micro-blog, reminds Nezavisimaya Gazeta (NG) daily. For instance, the official – who is responsible the legal and internal policy sectors in the region's administration – referred to the opposition using such words as "rumor-mongers", "schizo-oppositioners", "liars wearing short pants" and so on. Some of his posts were also pretty aggressive: "The opposition is holding up its head. We will hit [them]. There is no other choice. There is no one to talk to among them."According to the Communist deputy, such behavior violates the law "On Political Parties", which states that public servants must not use privileges of their post in interests of any political party. In the case of Shemelev, it was in interests of the United Russia party. The prosecutors, though, ruled that the deputy governor did not violate the law. Although they agreed that some of Shemelev's expressions were against the general principles of public servants' behavior. However, there are no rules adopted in the Primirsky Region that oblige officials to follow such principles, the prosecutor's aide Yelena Telegina told NG. Therefore, she said, they drafted and submitted to the governor a bill on amendments to the regional law that would bridge that gap. Meanwhile, Ashimikhin is disappointed with the prosecutors' conclusion and intends to file yet another complaint. "I insist that there is direct evidence of using official post in the interests of United Russia. [Shemelev] openly admits that he suppresses [the opposition's] protest activities, which corresponds with the interests of the ruling party," he told Kommersant daily.Earlier, commenting on the Communist's complaint, Shemelev accused him on his micro blog of having no shame. The young politician stated that "leaders of…the opposition are booze lovers" and Ashimikhin was enjoying Scotch whisky in Shemelev's office when a journalist rang up to him to give contact details to which he could send his dirt. What is funniest, he said, is that the parliamentarian had not read the Twitter comments, but had learned about them from the media. Ashimikhin hit back saying that he only had a coffee meeting with Shemelev and that the official's comments are nothing but an attempt at revenge. "It is an unprincipled and pretty impudent person who is not ashamed to say that  he would file a complaint on behalf of the governor in response to my earlier complaint," he told NG. Having blogs and micro-blogs in the web is becoming increasingly popular among Russian officials and is welcomed by President Dmitry Medvedev, who is an active internet user and a big fan of modern gadgets. He has become the first Russian leader to launch his own video blog, and also has accounts on popular network LiveJournal and on Twitter.
You can share this story on social media: