Opposition leaders detained for attempt to stage rally in Moscow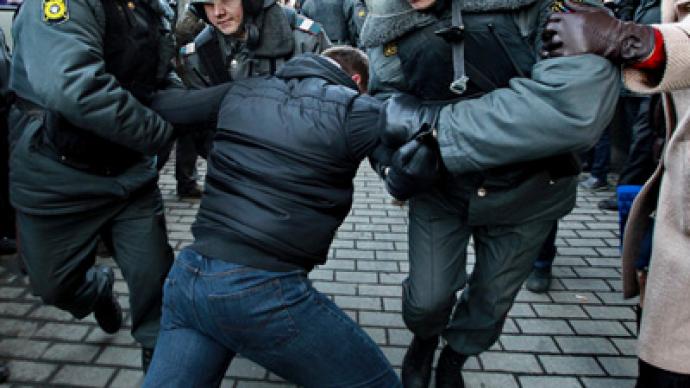 Police say they have detained more than sixty protesters while dispersing an unauthorized rally by activists from the Strategy 31 initiative. The group was attempting to stage its protest in its traditional location of Triumfalnaya Square in Moscow.
The police source cited by Interfax news agency said 62 people had been detained. Meanwhile, Interior Ministry representative Viktor Biryukov put the number at 26, whereas opposition sources claim that the number of detained participants at the rally has reached one hundred.Among those detained by the city police are Eduard Limonov, the founder of the Strategy 31 movement and leader of the unregistered party "The Other Russia", Sergey Udaltsov, the head of the Left Front organization, Ilya Yashin, the leader of Solidarity movement and Head of the For Human Rights movement Lev Ponomarev, reports Ria Novosti.Earlier, Limonov announced that even though the Moscow authorities turned down the activists' appeal to gain permission for their rally, they would still take to the streets. On Monday, he wrote on his blog in LiveJournal that the protesters had brought an action against the capital's government decision, which they believe was illegal. Police, for their part, vowed to detain opposition activists if they attempt to stage a gathering at Triumfalnaya Square. The Strategy 31 movement, which unites several opposition groups, traditionally attempts to stage its rallies in support of Article 31 of the constitution, guaranteeing freedom of assembly. The rallies are planned for the 31st day of months of that duration. However, each time the group fails to come to a compromise with the city authorities on either the location of the gathering (the opposition insists it should be Triumfalnaya Square) or the number of participants. As a result, they fail to get authorities' permission, but still try to organize the event. Several such attempts have resulted in clashes with police, detentions and administrative arrests for the opposition, including Limonov and Boris Nemtsov.
You can share this story on social media: