Nuclear cuts can only be discussed together with missile defense - Lavrov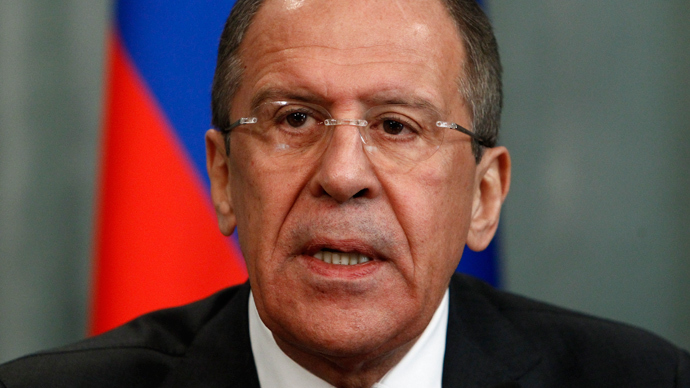 Talks between Russia and the US on reduction of strategic nuclear weapons must include defense systems, like global ballistic missile defense, says Russian Foreign Minister Sergey Lavrov.
"The strategic missile defense systems affects strategic stability. It has been and will be affected, at least in the foreseeable future by Americans' plans to create non-nuclear strategic weapons that would possibly be more humane than nuclear bombs, as they would lack the radiation effect, but that would far surpass the existing strategic nuclear weapons by their combat effectiveness", Lavrov said in an interview with the Rossiya-24 news channel.
The minister said that Russia suggests holding talks on strategic stability as a whole and to consider all factors that could affect this process.
He says Russia's stance is that future cuts must be discussed not in the bilateral Russia-US talks but together with other nations that possess nuclear weapons.
The Foreign Minister said that even without its European elements the planned US ballistic missile defense remains a global system laid on the Russian border and that Russian concerns over the process remain.
"Americans have decided to scrap the fourth stage of their missile defense deployment in Europe and to compensate by placing additional interceptors in Alaska. They also plan to set up one more defense position on the East Coast. We have analyzed this as a whole and this cannot remove our concerns because the system remains global and the deployment of its components is planned and actually takes place on our borders," Lavrov explained.
At the same time he said that Russia was positive about US suggestions of greater transparency of the missile defense plans.
The minister reiterated Russia's position that all attempts to shift the strategic balance would not be left unanswered.
Lavrov's interview confirmed and detailed Russia's stance on President Barack Obama's suggestion to cut US and Russian nuclear arsenals by one third, voiced during Wednesday's speech in Berlin.
Earlier, President Putin's top aide said that Russia was ready to discuss the nuclear cuts with the United States only if other nuclear states also take part in the process.
President Putin himself said in a speech on Wednesday that concerns remained both over the anti-missile shields deployed by the United States and NATO, adding that the development of high-precision non-nuclear weapons could upset the strategic balance.
"We cannot afford to disrupt the balance of the system of strategic deterrence, to reduce effectiveness of its nuclear forces. Therefore, the development of the system of space defense will remain a key direction for the military industry," Putin said.
You can share this story on social media: