Ukrainian ex-premier accuses authorities of "destroying opposition"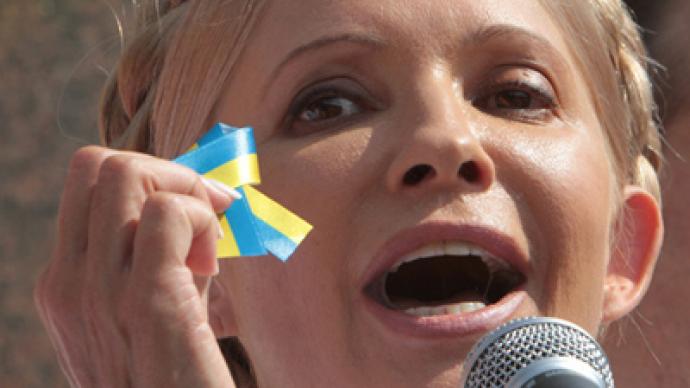 Yulia Timoshenko said "there is no justice" in Ukraine after prosecutors charged her with abuse of office for signing a gas contract with Russia.
She does not believe in the partiality of the Ukrainian court, the former premier told reporters on Wednesday. Her lawyers are now busy preparing documents for an appeal to the European Court of Human Rights.The day before prosecutors charged her with abuse of office, they claimed that the gas import contract she signed with Russia in 2009 was "ruinous" for the country's economy because prices were far too high. Investigators believe Ukraine lost 3.5 billion hryvna ($440 million) as a result of the contract.  Earlier, Timoshenko had been charged with abuse of office in two other cases. One concerns the alleged misuse of 380 million euros that Ukraine had received as payment for its green gas quotas under the Kyoto agreement and then ultimately used to pay pensions. She was also accused of spending money from the state budget on poorly equipped ambulances for rural hospitals.The former Ukrainian premier is now under a travel ban, and several of her close associates have been detained on charges of corruption. Timoshenko, the leader of the opposition Batkivshchina (Fatherland) party, says all the charges against herself and her allies are politically motivated. The authorities will try "to destroy the opposition" in the summer time, when many people are on holiday, she told reporters on Wednesday. She expressed hope that their plot against her would fail.  Completing the investigation on the 2009 gas contracts with Russia, prosecutors gave Timoshenko a week to familiarize herself with the materials of the case – 14 volumes, each of which contains about 250 pages. The ex-premier said a week was an unrealistic time to thoroughly review the documents. She described the cases against her as "being fabricated over night."On Wednesday, Timoshenko was summoned to the General Prosecutor's Office again, where she spent an hour, compared to the seven hours of interrogation the she endured the day before. The former premier said she had learned about the plans to arrest her back on Monday. The politician even recorded an address to the people.   Also on Monday, she met with European Union ambassadors in Kiev to discuss the situation in Ukraine and "political repressions" in the country. In February 2010, Timoshenko lost the presidential race to Viktor Yanukovich. The current head of state, whom Timoshenko accuses of clamping down on the opposition, earlier denied that she or her allies were being persecuted for political reasons. He stressed that several officials in the current government have also been accused of corruption.
You can share this story on social media: