Ukrainian ex-prime minister files suit to ECHR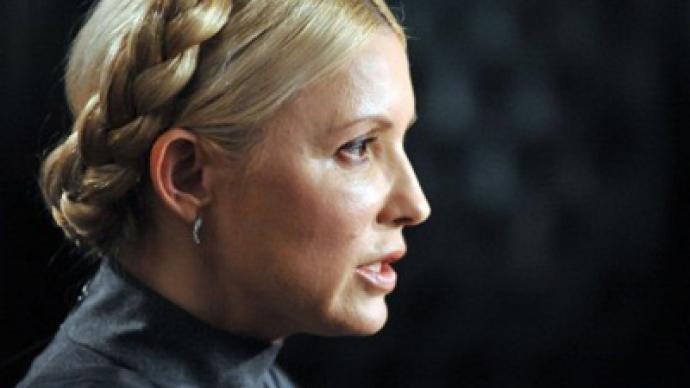 Former Ukrainian Prime Minister Yulia Timoshenko has submitted a complaint to the European Court of Human Rights. She says the case against her, in which she is accused of signing an "illegal" gas deal with Russia, is politically motivated.
­"I'd like to inform you that we have filed a complaint to the European Court of Human Rights," Yulia Timoshenko told journalists after Wednesday's hearing in a court in Kiev. "We are going to defend ourselves, and we will be seeking truth outside of Ukrainian courts." She reiterated that the trial is an attempt by President Viktor Yanukovich to "settle personal scores" with her as an opposition leader. Timoshenko added that the process is a set up and accused Judge Rodion Kireev of being a puppet in the hands of the president."Judge Kireev is not a judge at all, he is a person whom Yanukovich authorized to perform this reprisal," local news agency Unian quoted her as saying. "I don't stand up in front of such a judge, I don't address him as your honor, because he is a dishonest man who breaks the law." The prosecution claims that during her premiership, Timoshenko abused her office by signing gas supply contracts with Russia in 2009 under conditions which were extremely unfavorable to Ukraine, resulting in losses of about 200 million dollars. The preliminary hearing took place on June 24. On Wednesday the former prime minister was handed a copy of the indictment. Yulia Timoshenko requested that the court give her three days to study it on top of the three weeks she still needs to examine all the documents concerning her case. The judge scheduled the next hearing for July 4. 200 Timoshenko supporters gathered outside of the court holding banners for her party, Batkivshchina (Fatherland). The politician's daughter Evgenia and her husband Sean Carr, who also took part in the rally, put up an English-language poster reading Yanukovich = yanu convict. Yuliya T = liberty on a fence near the court building.While Timoshenko claims the accusations are politically motivated, the president, in turn, says that her defense is only based on political rhetoric and lacks any substantial evidence."She does not even try to put herself in the legal field," Yanukovich told journalists on Saturday. "Where are the legal arguments? This is her strategy…"As for Yulia Timoshenko's complaint to the ECHR, Justice Minister Aleksandr Lavrinovich insisted that Ukraine would adhere to its rulings whatever they might be."If the European Court of Human Rights establishes that Ukraine did something wrong, we will take all measures to rectify this civil rights violation," he said.