Unable to unite, opposition request two rallies on March 31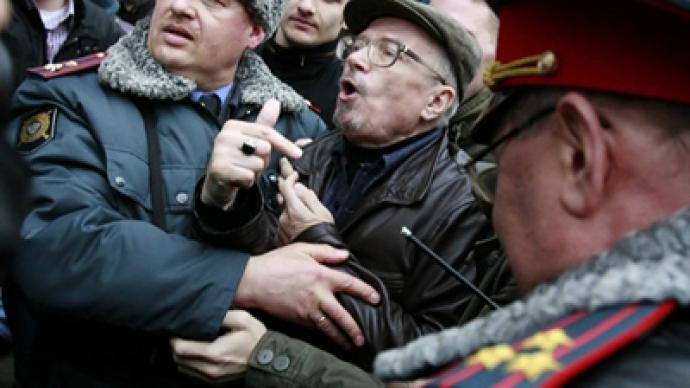 The leaders of several Russian opposition movements who had agreed to hold protest rallies on the 31st of every month with 31 days, tendered two requests for the end of March as the last action left them divided.
On Wednesday, the head of the Moscow Helsinki group Lyudmila Alekseeva and her supporters asked Moscow city authorities to permit a march from Triumfalnaya Square to Pushkinskaya Square – about one kilometer along Tverskaya Street in the very center of Moscow. The announced maximum number of participants is 3,000.Triumfalnaya Square is the traditional venue for the rallies in defense of Article 31 of the Russian Constitution – the guarantee of freedom of assembly. The bigger Pushkinskaya square is more suited for street protests, especially after Triumfalnaya has become the site of some construction works. Under the now former Mayor Yuri Luzhkov, the authorities usually suggested a different location for the rally. Opposition persisted in their intention to gather on Triumfalnaya, started the protest and were dispersed with riot police with subsequent sentences for those who resisted detention. The number of people participating in protests was usually well under 1,000, including the reporters who covered the event. After Luzhkov was fired by President Medvedev and replaced by Sergey Sobyanin, the rules of the game changed. The authorities allowed Alekseyeva to hold rallies on Triumfalnaya in October, December and January and the protest was held in an organized way and without any violence.  Another wing of the opposition – the Solidarnost group, led by the head of the banned National Bolshevik party, Eduard Limovov, persisted that the freedom of assembly should not be restricted even in the slightest, such as the obligatory coordination with local authorities. They also arrived at Triumfalnaya during the last protest action, but rallied outside the permitted boundaries and were detained again. Several activists spent a few days in police stations and were later sentenced to administrative arrest, which they advertised as political repressions. This time, Limonov and his group also submitted a request for a march from Triumfalnaya to Manezh Square which is very close to the Kremlin. The city administration refused to allow it. Opposition members in St. Petersburg also said on Wednesday that they planned to hold a "March of Dissent" on March 31. They said they had submitted several requests to the city administration with different routes for the march, but will hold the protest even if all these variants are turned down. City officials both in Moscow and St. Petersburg have not yet issued any decision or made any comments on the matter.
You can share this story on social media: