Church takes engaged observer stance on politics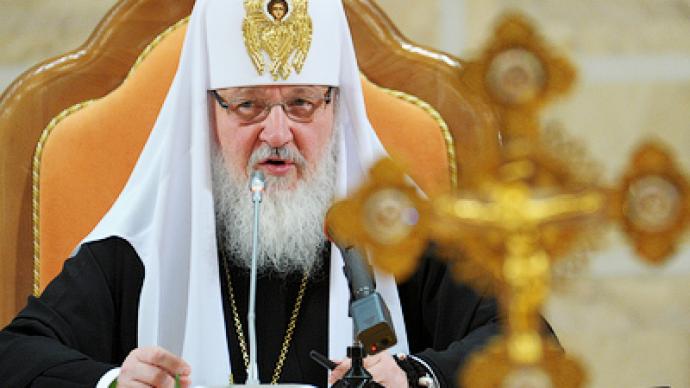 The Russian Orthodox Church will not allow itself to be sucked into a political struggle, stated Patriarch Kirill during a meeting in Moscow with representatives of the Davos World Economic Forum.
"The Church should keep its autonomous status in relation to the state, it should not become part of the state machine of politics. It should stay free in order to be able to render a moral evaluation of what is going on, including that of the authorities' actions," he said. The patriarch went on to say that for the last 20 years there have been calls for the church to form a political party and explained why they have repeatedly rejected them. "We were told, 'you have 20,000 parishes, and these are 20,000 constituents, so you would easily win elections.' We said, 'We might win elections, but we will loose our people because in this case, political opposition to the Church will emerge.' "At the same time, the Russian Orthodox Church is ready for dialogue with the existing political parties, and has always stressed that. Since 2009, when Patriarch Kirill was ordained following the death of his predecessor Patriarch Aleksy II, the Russian Orthodox Church has moved to build up ties with the United Russia party. Thus, in June 2009, Patriarch Kirill initiated a meeting with some of its deputies in his official residence. After that, deputy head of United Russia Andrey Isaev said that the party would hold consultations with the Church "on all issues about which they have the slightest doubts." In May 2010, representatives of the Russian Orthodox Church met with United Russia deputies in the State Duma.Although remaining outside the political struggle, the Church still does not restrain from voicing its political assessments of some issues.Just last week, commenting on the situation in Libya, a high-profile church official, Archpriest Vsevolod Chaplin said that "there are situations when the state could apply force" against insurgents, though stressing that there was a difference against a people's uprising and a plot "fabricated to bring the people under control of an external force."Earlier this year, he suggested adopting a list of "eternal Russian values" which, among others, includes patriotism, freedom of expression, freedom of conscience, and sovereignty and the independence of the Russian people.
You can share this story on social media: