Tread lightly on Syria, Russia warns UN Security Council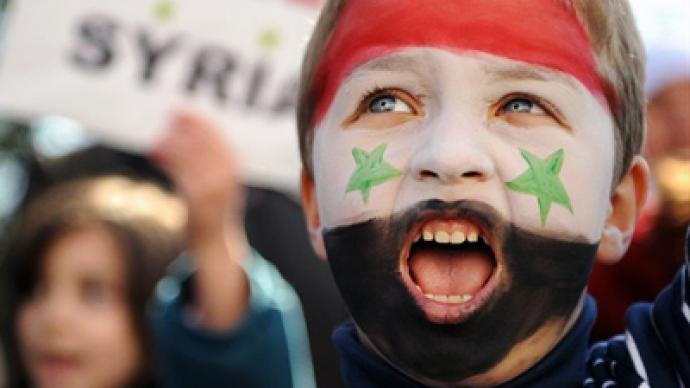 With the situation in Libya still undecided, a divided UN Security Council meeting on Wednesday failed to produce a statement condemning anti-government violence in Syria, while Moscow advises members to avoid any hasty actions.
­The emergency meeting came in response to the domestic crisis in Syria, where anti-government protesters have been clashing with security personnel.

France, Britain, Germany and Portugal circulated a draft statement on Monday calling for the 15-member council to condemn the violence.

"The demonstrators do not have tanks. They do not arrest people arbitrarily. They do not curtail journalists in their reporting," commented Peter Wittig, German Ambassador to the United Nations. "The continued violence against peaceful protesters is completely unacceptable; it has to stop immediately. All announcements of reforms are undermined by the ongoing violence."

The Syrian side, however, was quick to defend the actions of its police and military forces, saying that "dozens and dozens" of security officers have been killed in the clashes.

"We believe some of the statements heard today against Syria can only be considered an encouragement of extremism and terrorism," responded Bashar Ja'afari, Syrian Ambassador to the United Nations. "The price will be paid by innocent people in Syria and the world."

Ja'afari revealed that some armed groups in Syria have become "unacceptably violent" during the demonstrations and started shooting, which led to the death of security officers.

He said Syrian President Bashar Assad ordered security forces not to open fire in response to the protesters' actions, saying that "dozens and dozens of security officers" were shot and killed.

Ja'afari also questioned the "unprecedented enthusiasm" on the part of some council members for the statement, compared with a "lack of such enthusiasm" for attempting to end the Israeli-Palestinian conflict.

Meanwhile, Russia weighed in on the debate, warning the council that any outside interference in Syria's domestic conflict could pose a risk to regional security.

"In our view, a real threat to regional security could arise from outside interference in Syria's domestic situation, including attempts to push ready-made solutions or the taking of sides," said Alexander Pankin, First Deputy Permanent Representative of the Russian Federation to the UN.

Pankin warned of a "never-ending cycle of violence" – up to and including civil war – that could materialize if the demonstrators conclude that their actions will be supported by foreign intervention.

"It is already becoming increasingly clear that some of the demonstrators both in Syria and other countries are openly expressing the hope that the deteriorating situation could force the international community to help them and to take their side," Pankin warned. "Such approaches lead to a never-ending cycle of violence; this is a type of invitation to civil war."

China, India, Russia and Lebanon, the only Arab country in the UN Security Council, opposed the statement.

Meanwhile, Russia's Deputy Foreign Minister reiterated that the UN Security Council should act carefully and cautiously towards Syria.

"The current situation in Syria is difficult and unclear, and more reports are needed to make it clear what is actually going on there," Gennady Gatilov, Deputy Foreign Minister, told Itar-Tass on Thursday. "No one would like, in the UN Security Council, to take hasty decisions before the current situation is clear and unbiased.

Nobody would like to see another Libyan scenario, he added.

Gatilov stressed that both sides have resorted to violence, so it is too early at this stage to point fingers of condemnation.

"Both sides obviously use violence in Syria. Killed and injured people were reported in the opposition and in the governmental troops," the Russian deputy foreign minister said.

He stressed that Moscow calls for "a political settlement and the establishment of dialogue between the opposition and the government and the search for the soonest political solution to the conflict."

Gatilov emphasized that not only Russia adheres to this position, but also several other countries, particularly "our partners in the BRICS states, namely China and India."

Syria "is a key country in the region and everybody understands what important role the county plays in the Middle East peace process," he remarked. "The stability in the country will promote stability in the whole region."