Calls for Assad to quit 'rooted in hopelessness' – Lavrov
Published time: 18 Jul, 2012 13:35
Edited time: 18 Jul, 2012 19:01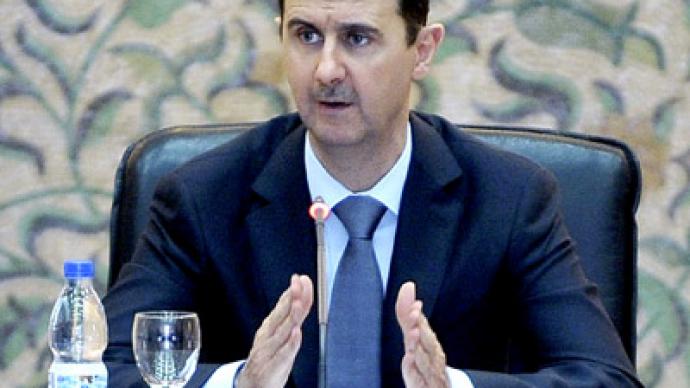 On the same day that a suicide bomber killed the Syrian Minister of Defense, Foreign Minister Sergey Lavrov warned that supporting the Syrian opposition while demanding that President Bashar al-Assad step down will lead to an impasse.
"If the policy based on support for the opposition continues – a policy leading to an impasse, since Assad will not go on his own – and all of these mantra calls that he must step down are rooted in hopelessness,"Lavrov told reporters in Moscow.
The Russian minister warned against the temptation for outside forces to play favorites with any side in the crisis.
Lavrov's comments came on the same day that Syrian Defense Minister Gen. Daoud Rajha was killed by a suicide bombing attack at a national security building in Damascus. His deputy – Assad's brother-in-law Assef Shawkat – was also mortally wounded by the blast.
Operation Damascus Volcano – as the rebels have dubbed their assault – has been announced, Lavrov conceded. However, it would amount to "direct support for the revolutionary movement" if the international community passes a resolution that "unilaterally forbids the government from responding [to the increasing violence]."

Moscow hopes the masterminds of the terrorist attack in Damascus will be punished.
"Moscow strongly condemns all forms and manifestations of terrorism," Foreign Ministry spokesman Alexander Lukashevich said on Wednesday. "We hope the masterminds of the terrorist attack in Damascus will be found and brought to justice."

"We see what happened as another attempt to further destabilize the situation in Syria," he added
Meanwhile, Lavrov reiterated Moscow's firm stance that it would not support sanctions against the Syrian government.
"If it is a revolution, the United Nations should have nothing to do with that," Lavrov emphasized. "We will see as the discussions continue," but Russia cannot approve the beginning of sanctions under Chapter VII of the United Nations Charter, he added.
Moscow has proposed that UN/Arab League Special Envoy to Syria Kofi Annan once again convene an action group for resolving the situation in Syria. Annan, who was in the Russian capital on Tuesday for talks with President Putin, said he welcomed the idea of further talks, Lavrov said.
"We have proposed to Kofi Annan that he once again convene the so-called action group," the minister told reporters in Moscow.
At the same time, Lavrov repreated Moscow's view that Iran and Saudi Arabia should also participate in the talks.
Meanwhile, Deputy Foreign Minister Gennady Gatilov commented over social media that a rise in terrorist militant activity in Syria at a time when the United Nations Security Council is discussing the situation is a dangerous trend.
"A dangerous trend: while the UN SC is discussing the settlement of the Syrian crisis, militants are intensifying terror attacks, disrupting all attempts," Gatilov wrote on Twitter on Wednesday.