Ambassadors' retreat from Syria 'incomprehensible' - Lavrov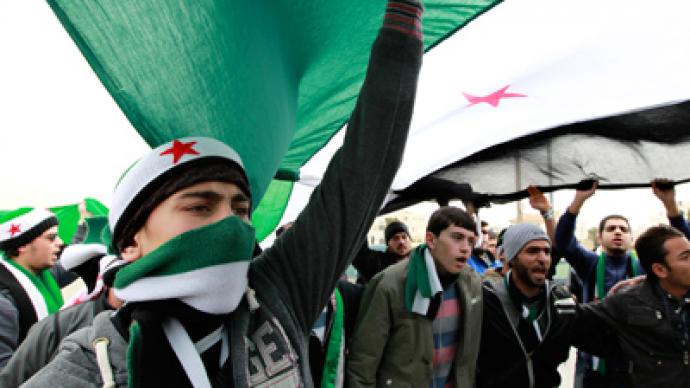 As international efforts to bring an end to Syria's 11-month political crisis falters, Russia says the decision by some countries to remove their ambassadors only complicates matters.
­The United States closed its embassy and pulled out all its staff on Monday, while Britain and Belgium recalled their ambassadors as the situation in Syria heats up.

Foreign Minister Sergey Lavrov said the decision will not help resolve the crisis.
"For us, this logic is incomprehensible, as was the hasty decision to freeze the monitoring mission of the Arab League in Syria," he said. "I do not think the ambassadors' recall helps create conditions that will be favorable for the implementation of the Arab League's initiative," he added..

The Russian minister also stressed that the fate of Syrian President Bashar al-Assad must be decided by the Syrian people as part of a national dialogue.

"Any outcome of a national dialogue must be the result of an agreement among the Syrians themselves and must be acceptable for all the Syrians," Lavrov said at a briefing in Moscow on Wednesday. "We support any initiative aimed at providing the conditions for the Syrians themselves to enter a dialogue and search for ways of (achieving) national reconciliation."
The Syrian government has attracted international scrutiny as it struggles to end an 11-month conflict with militant opposition factions.

Lavrov was in Syria on Tuesday, where he personally met with President Bashar al-Assad. The Syrian leader said he is ready for a dialogue with the political opposition, as well as endorsing changes to the nation's constitution.
"It is clear that efforts to end violence must be accompanied by the starting of a dialogue among all political forces," said Lavrov, who traveled to Syria with Foreign Intelligence Service chief Mikhail Fradkov. "Today we have received from the Syrian president a confirmation of his readiness to facilitate such work."
Syrian President Bashar al-Assad has instructed Vice-President Farouk al-Sharaa to hold
a dialogue with all opposition forces, Lavrov confirmed. 
Lavrov's trip to Damascus came just days after Russia and China vetoed a UN Security Council resolution, which Moscow said would have sent "mixed signals."
The Russian minister quickly dismissed allegations that by refusing to pass the UN Security Council resolution on Syria, Moscow lost an opportunity to resolve the crisis.
"We lost the opportunity to give the armed squads fighting against government forces a chance to occupy towns and villages," Lavrov said.
The international community should not turn a blind eye to the fact that violence in Syria is coming both from the authorities and from the opposition armed forces, he added.
"Not to acknowledge this and to present things as if only government forces are shooting peaceful demonstrators – this does not fit into any limits. Half truths are worse than non-truths."

Russia does not want a repeat of the "Libyan scenario" in which NATO forces took up a militant position against the government of Libyan leader Muammar Gaddafi, thus overstepping its UN mandate of "protecting civilians."
Lavrov expressed frustration that Western states did not postpone Saturday's UN Security Council vote until after his visit on Tuesday to Damascus, where he is expected to deliver a message to President Bashar al-Assad. 
"We find it disappointing that the resolution's authors chose to hastily sign the (UN resolution) after we asked them to give us several days," Lavrov noted. "Among other things, Mikhail Fradkov and myself…would have liked to discuss the situation (with the UN Security Council) after we conclude our visit."
Lavrov also called on all nations to respect the Syrian government's efforts at opening a national dialogue to resolve the political crisis.
"Attempting to pre-determine the outcome of a national dialogue beforehand is basically not the business of the international community," Lavrov stressed. "Both the government and all the Syrian opposition forces should sit down at the negotiating table."